10 Fourth of July Cocktails to Get the Party Started
What's a 4th of July Party without a few good cocktail options?! As you can tell with our recent dessert round up, we're very into the red, white, and blue recipes. Why stop with food? We're sharing everything from margaritas to sangria to alcoholic free beverages that the whole party will love. Even if you aren't hosting, these are great recipes to have in your back pocket to make for you and a couple friends!
Popsicle Cocktails & Tassel Stir Sticks by FreutCake
How cute are these? You can easily make these alcohol friendly or free and enjoy a tasty popsicle with your beverage!
Get the recipe.
Watermelon Keg (source: Good House Keeping)
Why didn't we have these types of kegs in college amiright? This fun and refreshing hack is the perfect summer party drink. It's surprisingly super simple too!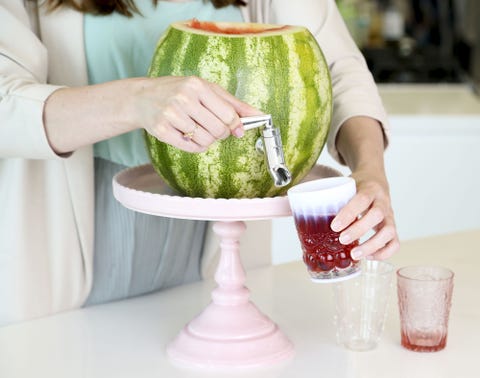 Get the recipe.
Red White and Blue Frozen Sangria by The Fitchen

Get the recipe.
Frozen Strawberry Rhubarb Margarita by Short Girl Tall Order
Get the recipe.
Red, White & Blueberry Ice Cubes by Lauren Conrad
SO CLEVER! If you're hooked on your staple vodka soda or gin & tonic, these festive make-ahead ice cubes will add a little patriotic flare to your drink. Great for kids to have in their juice or water as well!
Get the recipe.
SPARKLING RED, WHITE AND BLUE SANGRIA by Gimme Some Oven
With any drink recipe round up there HAS to be sangria. This one is one of our all time favs and we know you're going to love it too.
Get the recipe.
Tequila Cobbler by Katie Time
If you're looking for a light and refreshing drink that also gets the job done, this recipe is for you.
Get the recipe.
Star Spangled Mule by Inspired By Charm
Get the recipe.
Patriotic Smoothie by A Mom's Take
We love this kid-friendly and booze free patriotic drink! If you're not much of a drinker or want to have your kids feeling included, this is a perfect recipe to whip up in under 5 minutes!
Get the recipe.
Red, White, and Blue Jell-o Cups by Raining Hot Coupons
Get the recipe.
We hope you enjoy! MAKE SURE TO TAG US @wanttherecipe on social if you make any of these! XO