7 Summer Salads that Won't Bore You or Your Guests
You know that look on the healthy-eating hater's face when you utter the words 'salad'? Let's face it, some people just don't love greens or associate salad with the 3 pieces of romaine, chopped carrots, and onion they often receive as a 'side salad' at restaurants. Yeah, we agree, that's nothing to get excited about.
The best part about salads in our opinion (especially summer ones) is that they are so versatile . You can have greens, grains, pasta, fruit, seeds, cheese, you name it! All it takes is a damn good recipe and a little creativity. You can whip any of these up for a family dinner, a summer party, or even for your self! The world is your oyster here. Who doesn't want to look good, feel good, and eat good all at the same time?
Is there any better combo than peaches and goat cheese? I could eat both ALL summer long. Orange and yellow fruits and vegetables get their color from the 'carotenoid' compound. Uniquely, these types of produce actually get richer in nutrients once cooked and are most absorbable when combined with a healthy fat (cue the avocado). Carotenoids are known for boosting immune function and are converted by your body into Vitamin A.
Greens (i.e. the arugula in this bowl) are given their color through the expression of the chlorophyll compound. Greens are packed with so many vitamins and minerals (vitamin A, C, K, folate, to name a few) and can help reduce your risk of all illnesses and diseases.
All of veggies (no matter the color) are also rich in fiber. Fiber is the food for the good bacteria in your gut microbiome and as you know, a healthy gut = a happy life. More on that in this post.
The first thing that comes to mind when I think summer salad is fruit. Just looking at is refreshing! This recipe is perfect addition to any summer party spread. Just look at it's beauty!
So obsessed with this atypical salad. It's warm and perfect for a summer barbecue meal. If you need more veggies but are also anti-kale, this is a great option for you!
Cool and crunchy, this cucumber tomato salad is perfect for a hot day. The perfect complement to a freshly grilled  juicy burger.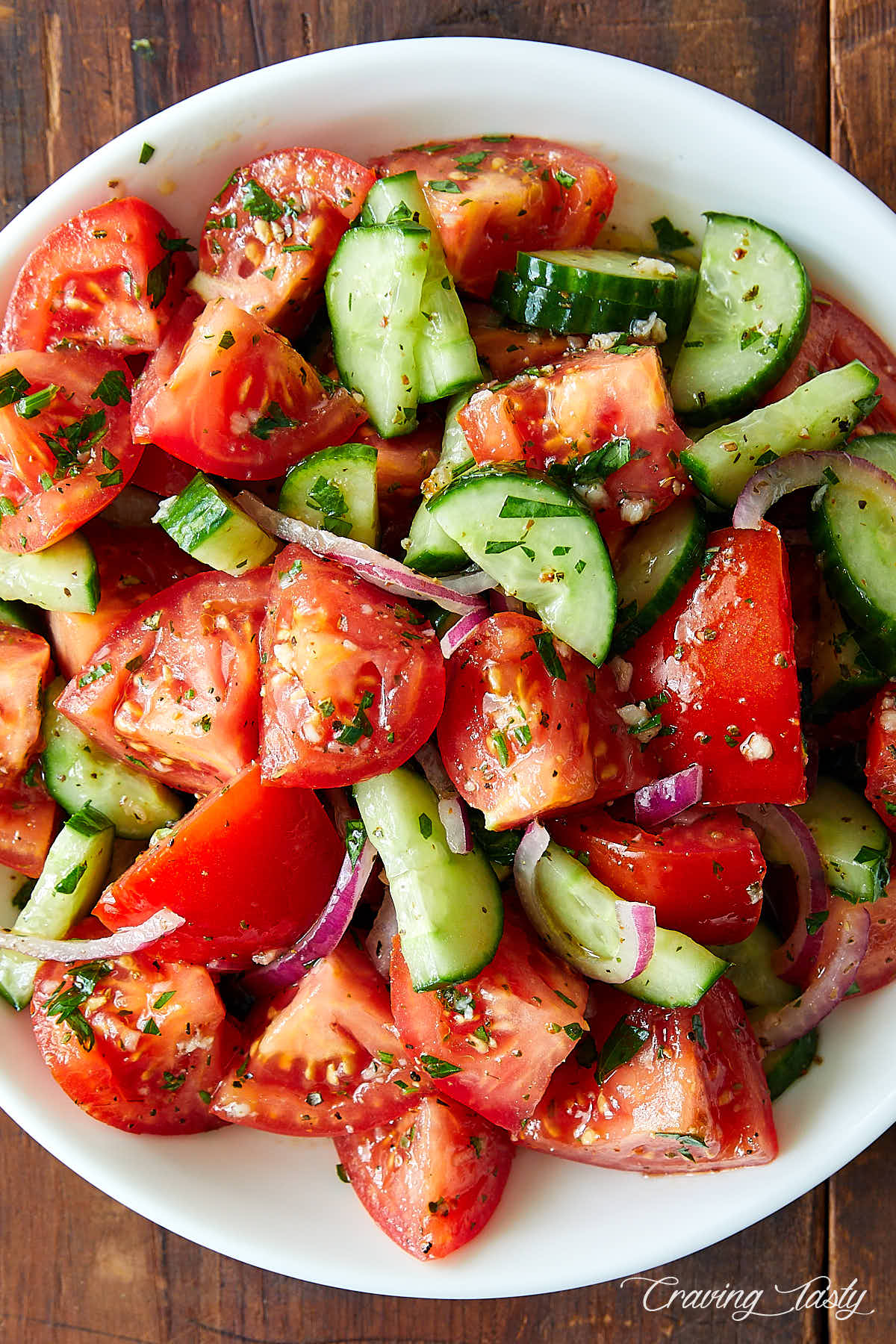 Do you ever go through stages of being totally OBSESSED with certain foods? Mine right now is hands down BEETS. Blue,purple, and red fruits and vegetables are packed with "anthocyanins", aka flavonoid compounds known for their antioxidant benefits (kill off free radicals caused by oxidative stress that damage your cells over time). Beets in particular are a major superfood in this group and have been shown to contain pigments that help reduce blood pressure, improve athletic performance, and benefit your overall brain and digestive health.
It's pasta salad season and I'm not stopping until I try every variety. We rounded up a few made with Banza Chickpea Pasta here but this strawberry caprese recipe is also a must.