We know meal prep can seem like a daunting task sometimes, but with this hack, you'll be eating healthy and on the go in NO TIME at all! Best part is, you don't have to go digging through your tupperware drawer to find the matching top. All you need for this lunch is a mason jar (size is up to you!) and the ingredients for the recipes were sharing below. Let's face it, a boring salad that you meal prepped for your busy day at work isn't always something you look forward to come noon. We're here to change that for you. Not only are these recipes insanely delicious and anything but boring, but making them up in a mason jar adds a little fun into the equation. Super easy to transport, too!
1. WALNUT PEAR SWEET POTATO MASON JAR SALADS by Healthy Little Vittles
This one is an absolute favorite of mine right now. The ingredients are so tasty and nutritious with a little crunch to satisfy your taste buds. According to Healthy Little Vittles, the key to layering is you put the dressing on the bottom so it doesn't get some of the other salad ingredients soggy as you store it overnight (GENIUS)! Once the salad dressing is in, you drop in the more dense foods )(sweet potatoes, walnuts) , followed by dates, lettuce, pear and cheese. Life changing hack!
Get the recipe.
2. WORK LUNCH GREEK CHICKEN SALAD by The Wooden Skillet
This whole30 friendly recipe is simple yet oh-so-satisfying. The Wooden Skillet is a master at the mason jar meal and shares some tips on how to meal prep chicken ahead of time so you aren't disgusted the next day (you know that tough chicken texture I'm referring to). She also gives some great tips on meal prepping mason jar salads –  like making sure to batch prep for the week in a way that will keep you hungry and interested (i.e. 3 lunches for Monday, Wednesday, Friday with a little something else on the days in between)!
Get the recipe.
3. Mason Jar Southwest Chicken Salad by with Cilantro Lime Dressing by Joyful Healthy Eats
You say cilantro lime, I come running. Love how approachable this recipe is. I guarantee you can't find one person that wouldn't like it!
Get the recipe.
4. Balsamic Chicken Berry Quinoa Salad by Ambitious Kitchen
You know I love all things Ambitious Kitchen and she surely did not disappoint with this Balsamic Chicken Berry Quinoa Salad. According to AK, this salad makes and EXCELLENT summertime picnic or potluck salad. It's refreshing and bursting with variety and flavor.
Get the recipe.
5. Chicken Salad Mason Jar Salads with Creamy No-Mayo Dressing by Kristine's Kitchen Blog
Have to say I loved this one immediately because I'm personally not a fan of mayo but love ALL the creaminess – anyone else? This healthified version of mayo heavy chicken salad sandy will give you all of the flavors you ever wanted with none of the calories you didn't!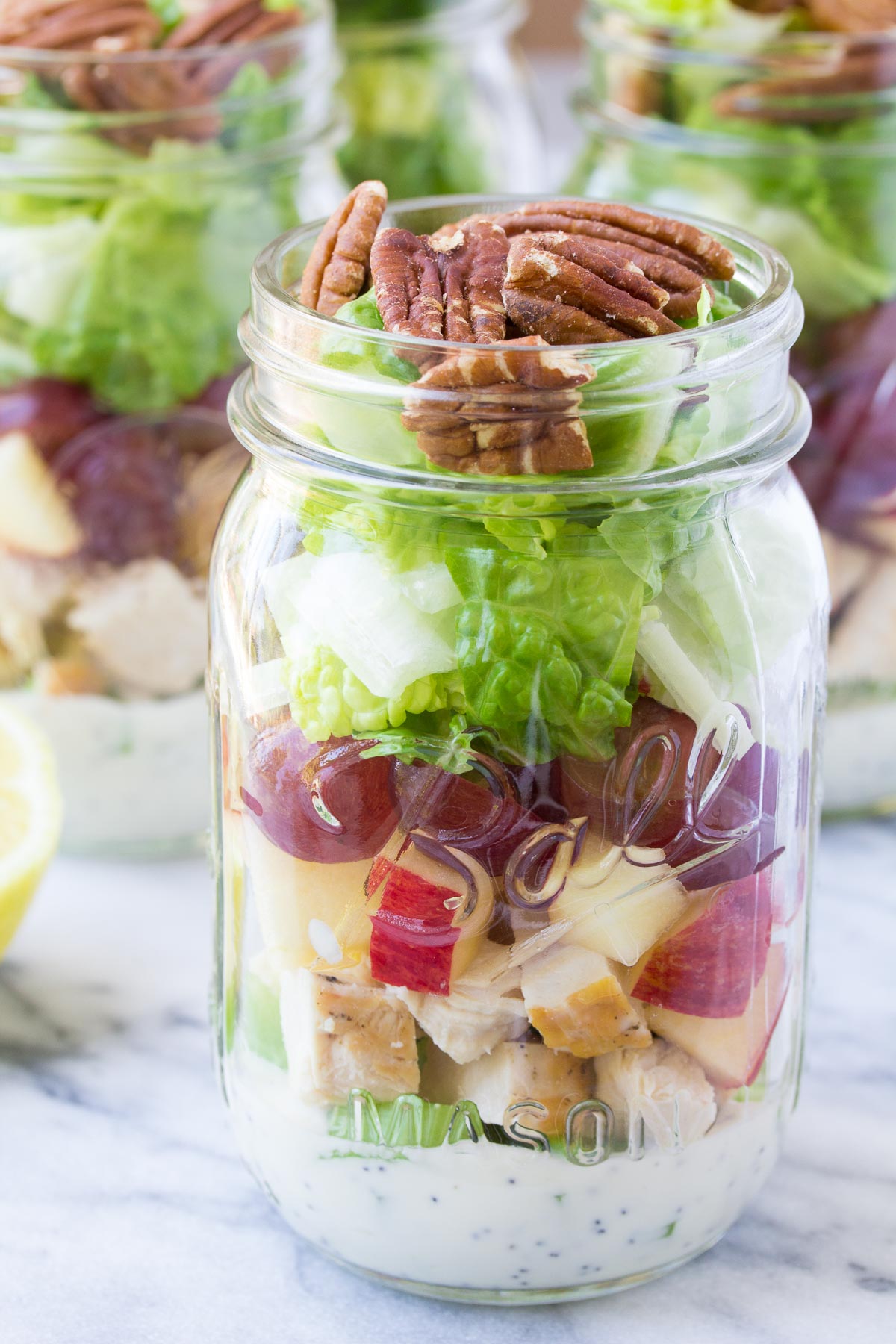 Get the recipe.
6. Chickpea & Quinoa Mason Jar Salad by Simply Quinoa
I love this recipe for it's simplicity and crunchiness. This one is vegan/ vegetarian friendly and is packed with so many nutrients!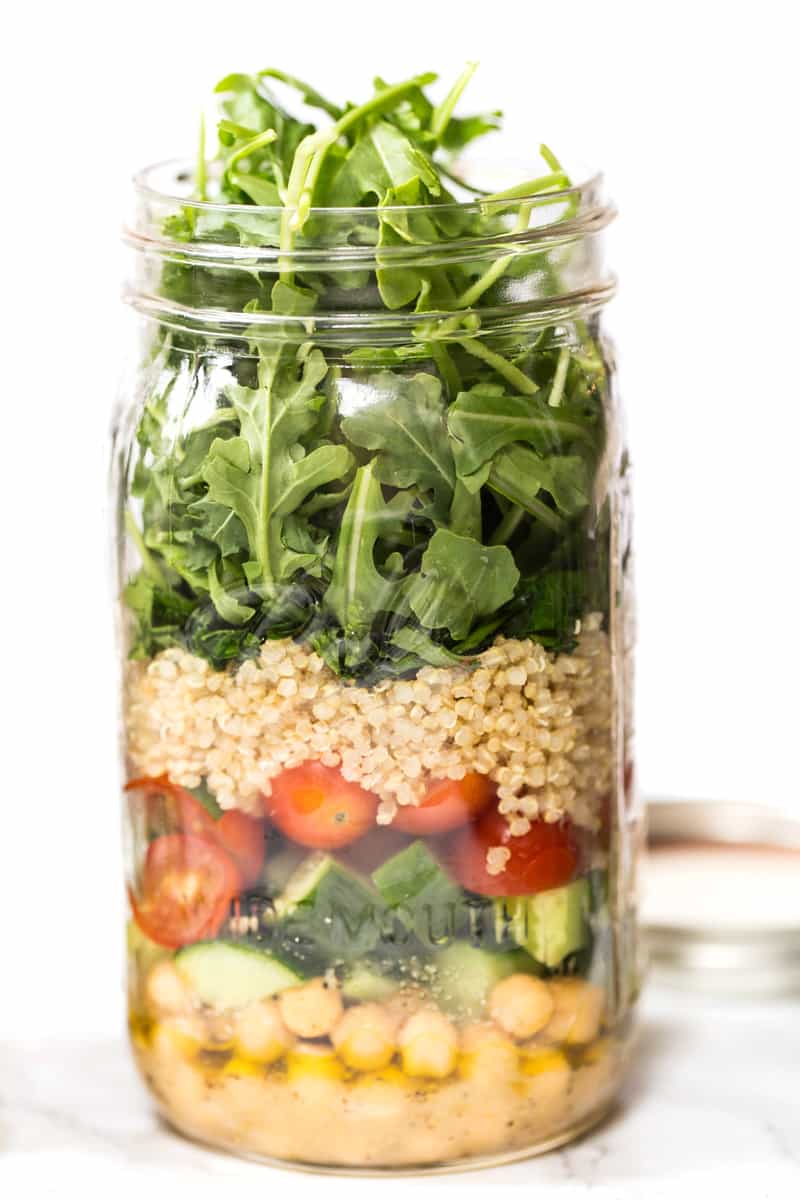 Get the recipe.
7. Asian Chicken Mason Jar Salad by Joyful Healthy Eats
This recipes is great to batch prep with another one of the recipes above. It's unique asian cuisine flavor makes it extremely unique and will fire up your taste buds. Take the Wooden skillet's advice and batch prep 3 of the one mason jar salad recipe and 2 of this one! Work week just got a whole lot tastier.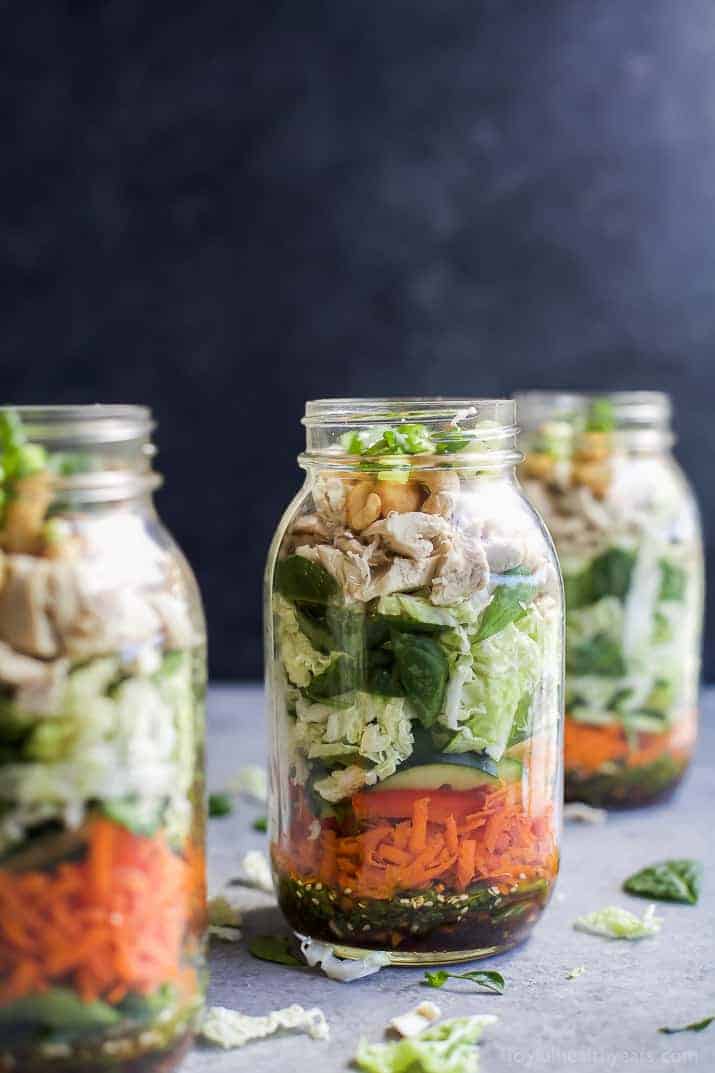 Get the recipe.
8. Burrito Bowl Mason Jars by Delish Knowledge
You had me at burrito. This recipe reminds me of chipotle in a jar and I'm extremely into it. You will be to, trust.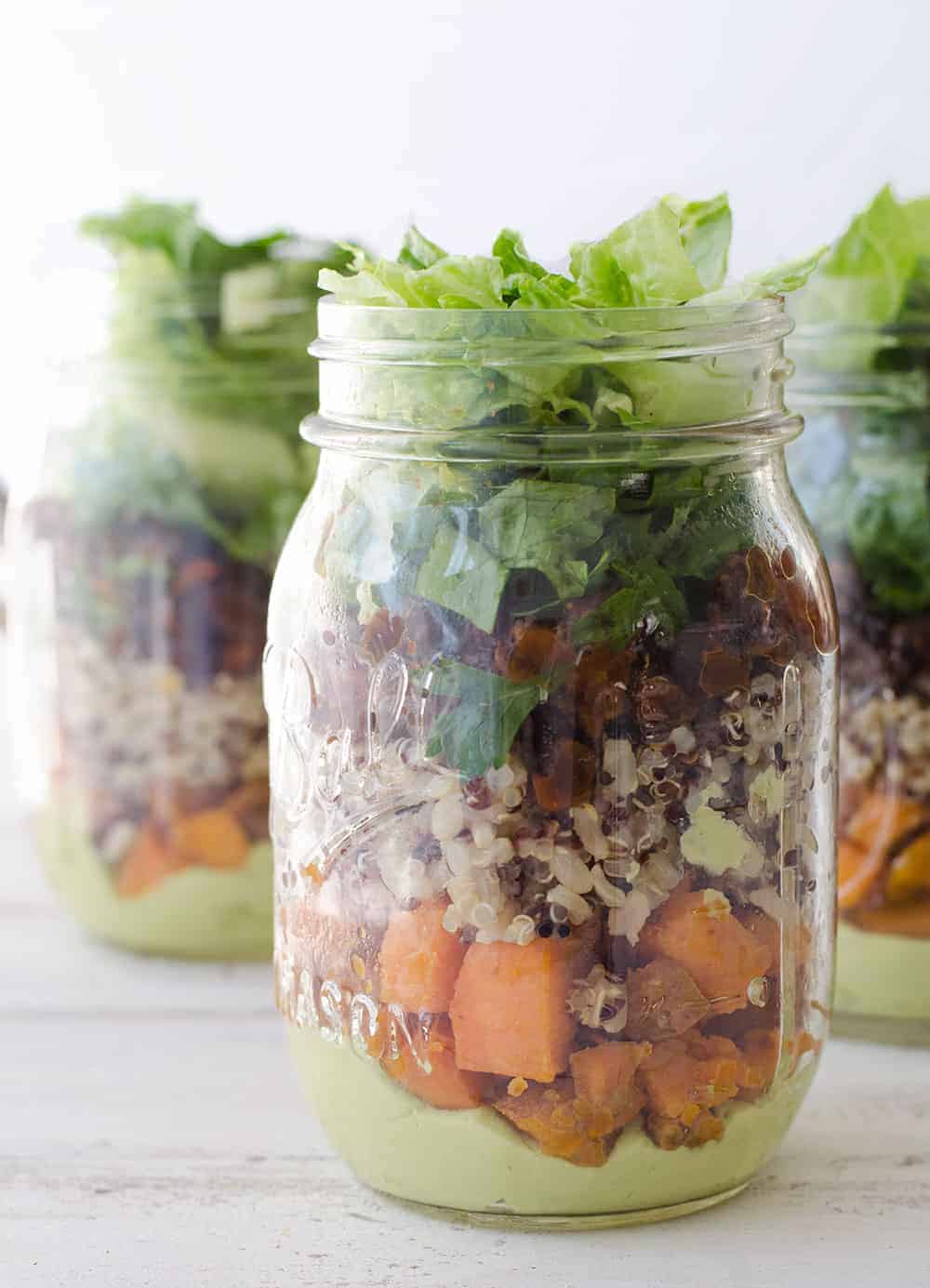 Get the recipe.
9. Apple Harvest Mason Jar Salad by The Seasoned Mom
Dreaming of cool crisp weather and apple harvest mason jar salads. This one has all the Fall feels written all over it!
Get the recipe.
Don't forget to tag #wanttherecipe and @wanttherecipe on social when you make these! We can't wait to see your creations!!