Beets are a beautiful red tinted vegetable known for their insane amount of nutrient content per calorie gram. They contain nitrates and pigments, both of which are plant compounds that have a number of health benefits (1). Beets have been used for medicinal purposes for centuries, but recently studies are the reason why you're seeing them everywhere lately. For instance, your local juice shop.
What are the health Benefits?
Did you know that beets are one of the few fruits and vegetables that have the most variety of vitamins and minerals packed in one little bulb(3)?
Calcium
Magnesium
Potassium
Zinc
Selenium
Vitamin A
Vitamin C
Reduce the Risk of Disease:
Beetroot is a rich source of compounds which are insanely good for all things healthy you. On top of nitrates, beetroot is comprised of the pigment 'betalain', which gives them a red-violet color. A number of scientific studies show that beets have high antioxidant and anti-inflammatory  properties. Therefore, beetroot is great for stress and chronic inflammation such as arthritis and cancer (5). In addition, these benefits have also led to interest in its potential use in diseases characterized by impaired immune-cell function. For instance, decreasing tumors.
Enhances athletic performance:
Studies show that nitrates in beetroot can reduce oxygen cost during physical exercise and has profound effects on mitochondrial function. In other words, this means the powerhouse of your cells are able to break down nutrients and provide energy to you quickly and efficiently. (6)
If you're a pro athlete or training for a marathon/ specific event, this tip might be more relevant for you (however, this still applies to all of you heading to a spin class after work as well)!
The positive impact of nitrates within beets typically peaks within two to three hours of consuming them and remains elevated for an additional six to nine hours before declining towards baseline. (7) Therefore, consuming beets approximately 3 hours prior to competition or training is recommended if athletes want to explore the this potential.
Improve Brain Function:
As you may know, cognitive function deteriorates with age mainly due to the lack of cerebral blood flow (especially in those suffering with brain damage and Alzheimer's disease). Although long-term clinical trials haven' been conducted, two recent studies explored the influence of beetroot supplementation on age-related cognitive function.
In one of these studies, individuals given beetroot supplements for 14 days experienced a significant improvement in simple reaction time compared to a control group. There is hope!
Where do I Buy Them?
There are so many ways to buy beets at the grocery store these days. Whether it be raw, cubed, or sliced, you really can't go wrong. We LOVE this beet sauerkraut cabbage to throw on top of salads for an extra boost of probiotics. Drinking raw beet juice might have greater effects when compared to cooked beets. Something to keep in mind if you're really trying to see how it benefits you! (8).
Want the Recipe?
Red Pear and Beet Salad by the Inspired Home
Want the Recipe?
Beet Hummus by Broma Bakery
Want the Recipe?
Oven Roasted Beet Chips by a Spicy Perspective
Want the Recipe?
Beet salad with feta, cucumbers and dill (Recipe by Bowl of Delicious)
Want the Recipe?
Smashed Sweet Potatoes and Beet Garlic Aioli (Recipe by The Toasted Pine Nut)

Want the Recipe?
Bruschetta with Beets and Goat Cheese by Whitney Bond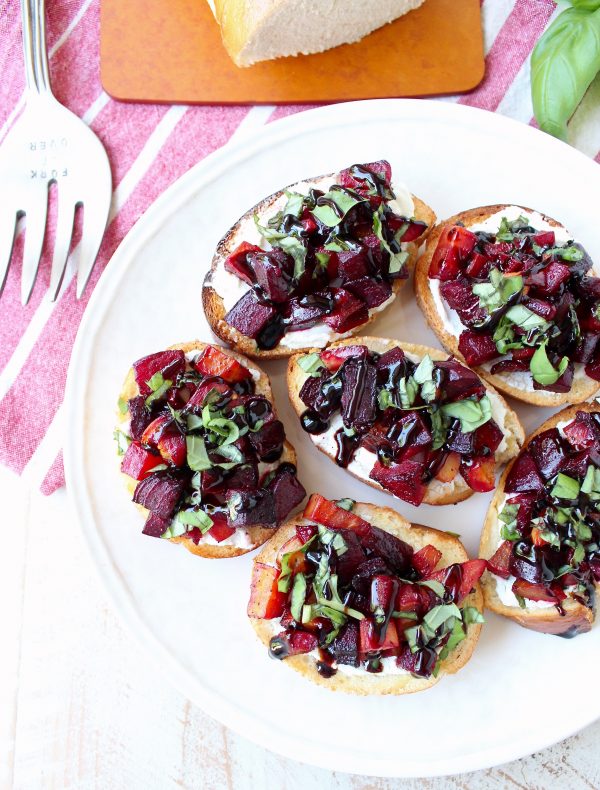 Want the Recipe?