Blueberries
Let's be honest here, is there anyone out there that doesn't LOVE blueberries. This little blue fruit can be used in numerous recipes and is actually on the list of top 10 most important foods for brain and over all health. A fun unknown fact: there are actually FIVE varieties of this little berry (lowbush, northern highbush, southern highbush, rabbiteye, and half-highbush). Regardless, you can't go wrong as long as you buy certified organic.
What are the benefits?
If you needed an excuse to whip up another batch of blueberry pancakes, muffins, oats etc., this list of nutrition facts will give you all that you need. Blueberries are made up of a flavonoid compound called anthocyanin which gives them their beautiful blue tint and antioxidant composition. Blueberries are packed with so many nutrients that they actually fall into the ever popular 'superfood' category (check out more of our favs here). Here are a few notable ones you'll be telling your friends about:
Often called the 'belly fat fighting food', the catechins (a type of natural phenol and antioxidant) compound found in blueberries activates fat-burning genes in abdominal fat cells. According to research at Tufts University, incorporating these so called 'catechins' regularly will increases abdominal fat loss by 77 percent!!! New Years diet plan?
Blueberries are very low in sugar compared to some other fruits and as such, are great for blood sugar regulation and those with beginning stages of insulin resistance (check out this post for what that means).
Blueberries are one of the richest sources of phytonutrients that decrease free radical production. FYI – free radicals are highly correlated with early signs of aging. Goodbye wrinkles!
The excessive amount of Vitamin A, Vitamin C, Fiber, Folate etc. etc. has been shown to prevent the risk of heart disease and cancer.
'Brain berries' as the neuroscientist Dr. Amen calls them, are impeccable for mental clarity and for preventing brain degenerative diseases like dementia.
Where can I get it?
As we said above, always buy organic. Blueberries should be included on the 'dirty dozen' list of foods as they can be covered in pesticides if not bought properly. Grab some from your local farmers market and you will see how sweet the real thing tastes!
Recipes, please.
Simply search the word 'blueberries' on the WTR app or grab these winners into your profile:
Fluffy Gluten Free Blueberry Pancakes by Nutrition Stripped

Blueberry Almond Chia Pudding by Eating Well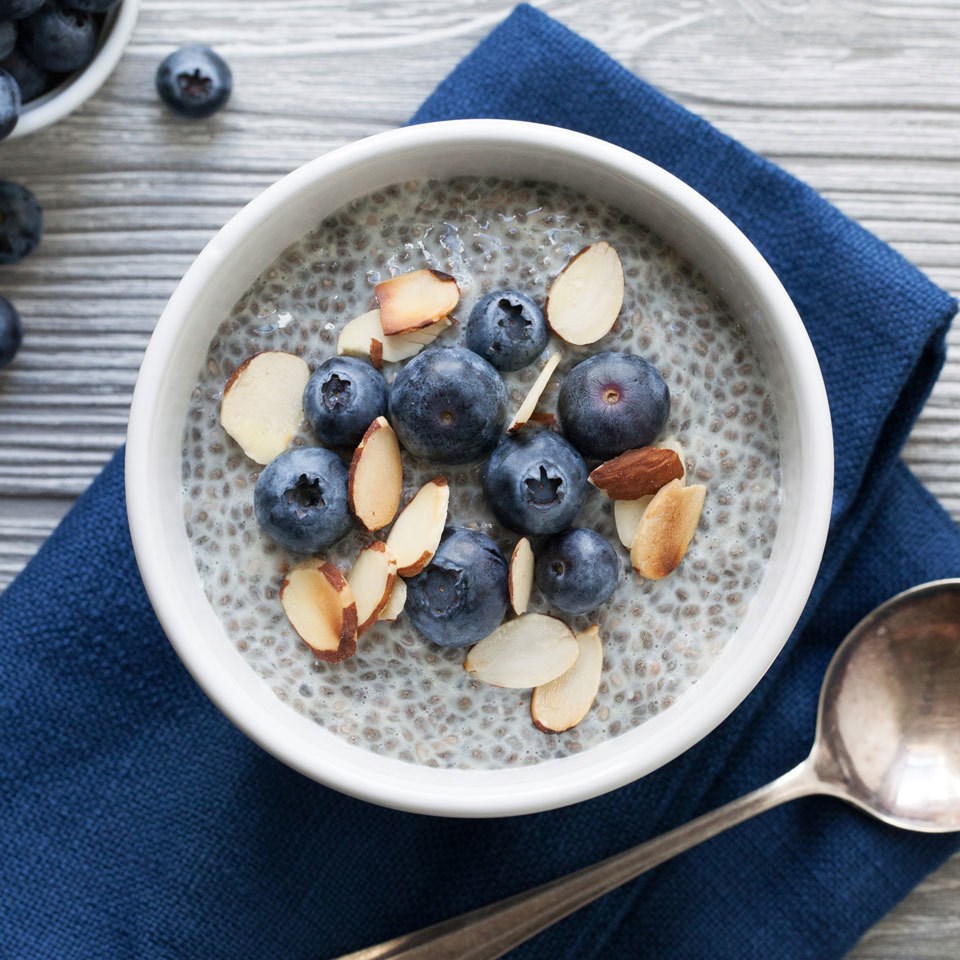 Blueberry Basil Balsamic Mozzerella Crisps by Half Baked Harvest
If you're in a pinch, we also love a good Simple Mills Blueberry Muffin made with their AMAZING gluten free pancake and waffle mix. Stock up using the link below:
Tag @wanttherecipe with your best blueberry creations!