Coconut Flour
What is it?
Another fun gluten-free baking ingredient (check out almond flour here), coconut flour has become a popular go-to for those trying to keep it light. With the increasing number of allergies (including nuts and nut based flours), many people are on the lookout for allergen free dessert recipes that they can safely make at home. Coconut flour is a soft, naturally grain and gluten-free flour produced from dried coconut meat and is a byproduct of coconut milk production.
What are the Benefits?
Let's start with the nutrition facts. According to the USDA, 1/4 serving (30 grams) of coconut flour is made up of the following:
120 calories
16 grams carbohydrates
6 grams protein
4 grams fat
10 grams fiber
3.6 milligrams iron (20 percent DV)
As you can see, one of the first notable benefits is the high protein content. Although coconut flour isn't as high in protein as almond flour, it generally requires more eggs to help moisturize (since coconut flour is rather dry) and thus will give you a good amount of protein in whatever you are baking.
Another big benefit: FIBER! 1/4 serving of coconut flour has only 6 grams of net carbs which is insanely less than it's alternative white/wheat flour. If you want to know more about why fiber is key, head over to this ingredient to learn more.
With fiber comes good blood sugar regulation. Coconut flour has less impact on your blood sugar and insulin production than other flours, making it a good option for diabetics and all those who want to reduce inflammation in the body (aka, all of you). You will feel full longer and less likely to overeat, making it a positive ingredient for baked goods (because who doesn't want to eat the whole batch)?
Not only will you be less likely to overeat, but the fatty acids in coconut flour can actually help boost your metabolism performance. Coconut flour contains high levels of MCTs, also called medium-chain fatty acids. You know, that stuff they tell you to put in your coffee these days? Studies show that MCTs act as important nutrient and metabolic regulators in the body. When you digest them, they have a thermogenic effect on your liver and thus positively affect metabolism. In addition, the make up of these fatty acids makes it generally higher in omega-3s as opposed to omega-6s. Although almond flour is higher in overall omega-3s, it also is higher in omega-6 which you likely already get way too much of in your diet. This fact alone makes coconut flour a little bit more beneficial than it's friend, almond.
How do I Use it?
Coconut flour is a rather tricky one and is NOT interchangeable for other flours in a 1:1 ratio. Coconut flour has a very unique texture and requires certain complementary thickening agents to make it a success in any recipe. I once made the mistake of subing 1 cup all purpose flour for 1 cup coconut flour in bread and it turned into a crumbly, dry mess! As said above, you'll have to use more liquid and/or more eggs to moisten coconut flour in your recipe. It is also very absorbent and a very small amount of flour will absorb a very large amount of liquid so beware if any recipes call for over 1 cup.
According to a tip shared by the Nourished Kitchen: it's good practice to separate your eggs and beat the flour with egg yolks and then beat the whites separately until they hold stiff peaks. Once complete, you then fold the whites into the egg yolk and flour mixture. This improves the natural heaviness of many baked goods that use coconut flour as an ingredient.
Unless you're a baked good expert, try sticking to recipes that call for coconut flour before trying to sub other flours with it. If you're trying to get creative, start by substituting coconut flour for all-purpose flour at a 1:4 ratio, and add 1 egg for every 1/4 cup coconut flour. Goodluck!
Want the Recipe?
Coconut Flour Blueberry Muffins by Paleo Grubs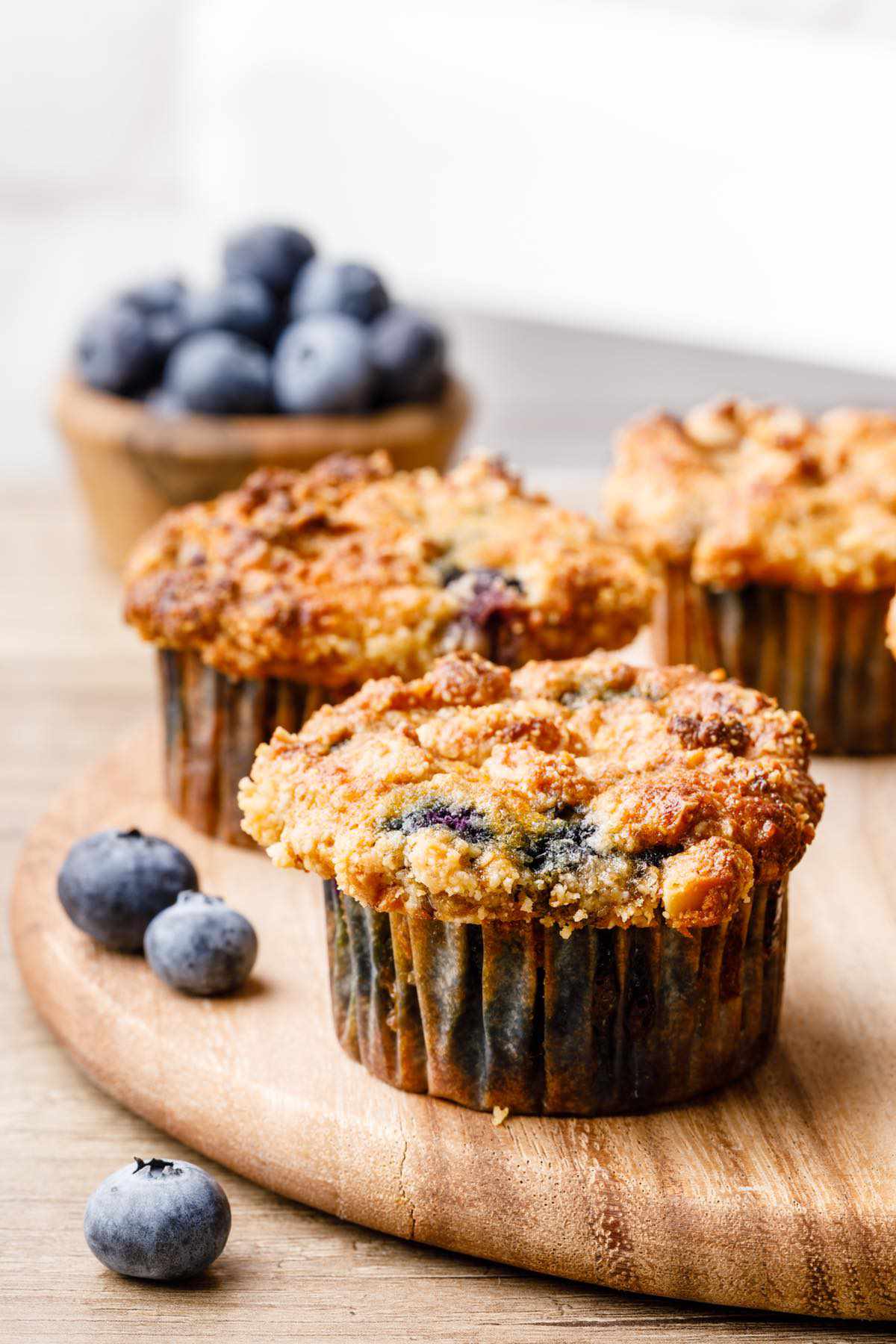 Homemade Coconut Flour Tortillas by Paleo Grubs
Coconut Flour Chocolate Chip Cookies by Leealicious
Raspberry Crumble Bars by Ambitious Kitchen
and because she is the baked good goddess, here is a whole bunch of coconut flour recipes curated by Ambitious Kitchen.
Healthy Edible Cookie Dough (Vegan, Gluten Free) by 40 Aprons