Damn Good Desserts for The 4th of July
It's that time of year again for red, white, and blue food and WE ARE SO EXCITED. So excited that we're doing 3, yes 3, separate recipe round ups to support your patriotism and hungry belly. First off (and arguably the most important): DESSERT! Damn good ones at that. We're rounding up some of the most beautiful and patriotic dessert recipes that have ever been created.
4TH OF JULY STAR COOKIES by The Baker Mama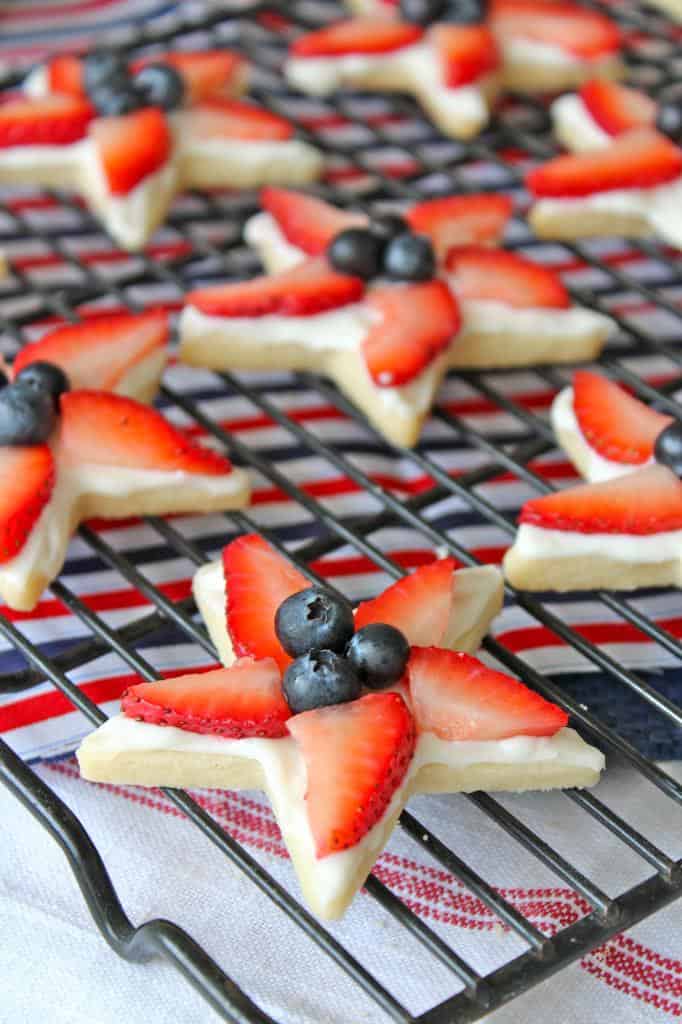 Get the recipe.
Patriotic Puppy Chow by Sweet as a Cookie
Secretly one of the best snacks of all time. This one is such an easy dessert to make in batches and bring to any 4th of July party.
Get the recipe.
Red, White, and Blue Cake Batter Dip by Sugar and Soul
This recipe immediately brought my back to Dunkaroo days (although the portion size of this dip is WAY more realistic). This is super simple and easy to put in the middle of a fruit platter for a pop of color.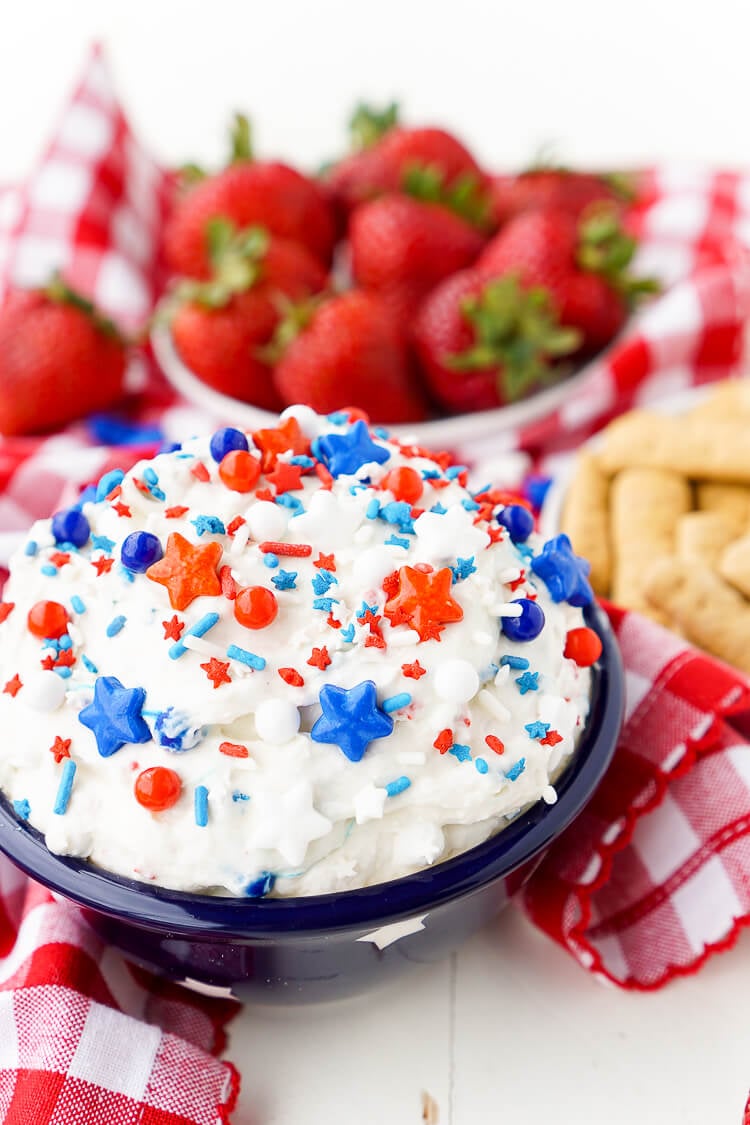 Get the recipe.
STRAWBERRY AND BLUEBERRY CHEESECAKE ICEBOX CAKE by Life, Love, and Sugar
Layer it UP with this icebox cake. This will be surely be a fan favorite.
Get the recipe.
RED, WHITE AND BLUE M&M'S COOKIE BARS by Number 2 pencil
When monster cookie meets brownie meets 4th of July, you have this masterpiece. Cookie squares have a totally different and AMAZING taste as compared to your regular shaped cookie. Not sure why, but it's magical. Kids and adults will be loving up on these at any gathering!
Get the recipe.
Patriotic Dessert in a Jar by Typically Simple
Packing up food to go for the Holiday? This mason jar dessert could not be more perfect. Easy to throw together and bring on the go.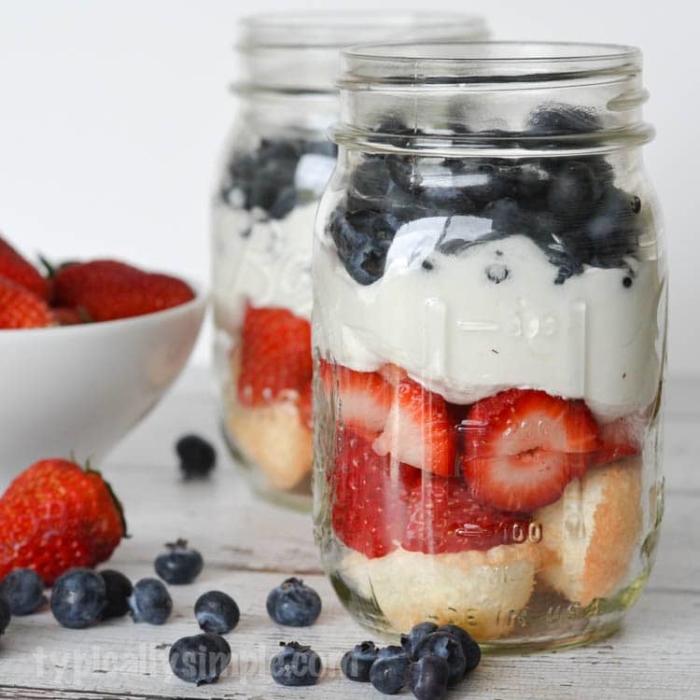 Get the recipe.
Patriotic Chocolate Chip Cookie Cups by Life, Love and Sugar
Okay, I know I said cookie squares are one of a kind but cookie CUPS are also insanely good. Something about the shape of the cookie really mixes things up but we're loving this recipe by Life Love and Sugar. So festive and oh so delicious.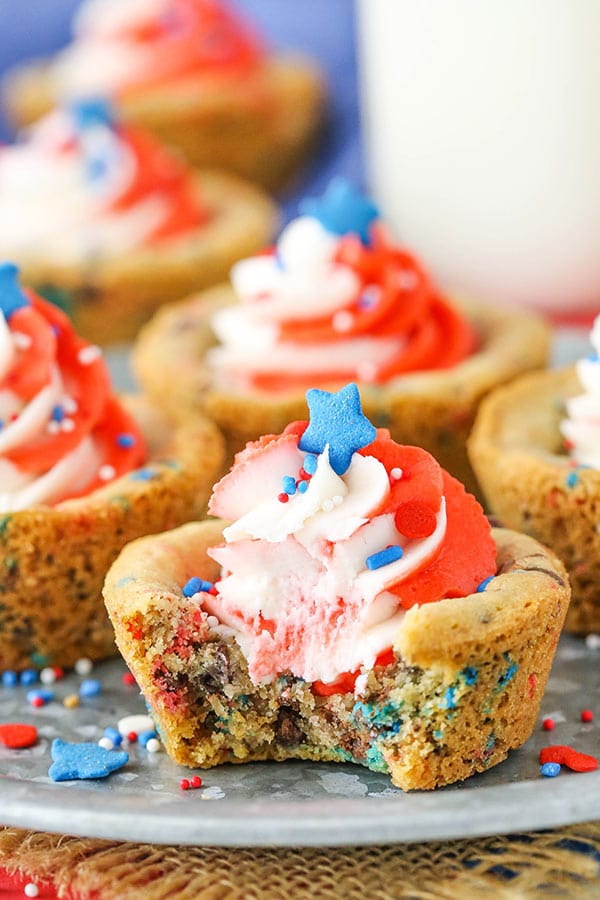 Get the recipe.
Easy Flag Dessert by Family Fresh Meals
Did your sister forget to tell you to bring something to the family fourth party? We've got you covered. This dessert platter is just 5 simple ingredients from the grocery store an can be made in under 5 minutes. WTR to the rescue!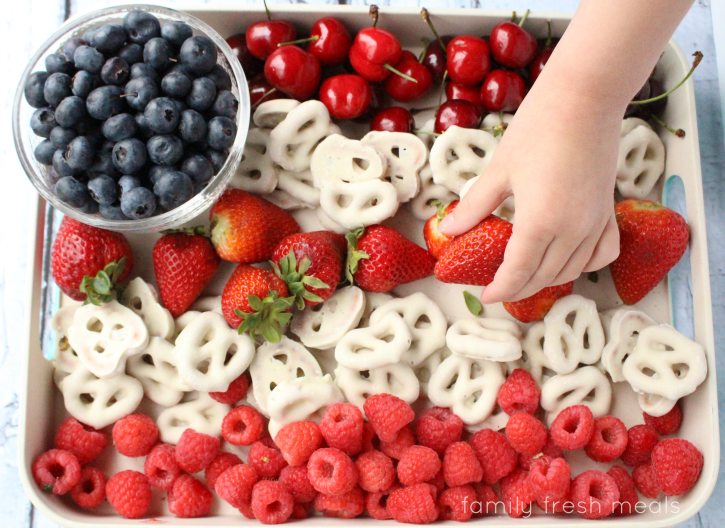 Get the recipe.
Healthy Fruit Pizza by Fit Foodie Finds
Hands down my favorite recipe on this list. I mean is there anything better than a THICK sugar cookie shaped like pizza with frosting slathered all over it? Oh yeah, and fruit. YOU GUYS, this is one for the books.
Get the recipe.
July 4th Sprinkle Cookies by Simply Gloria
Fluffy sugar cookies are always a good go to. Add red, white, and blue sprinkles and you've got yourself a party!
Get the recipe.
Patriotic Pretzels by Simply Being Mommy
I love this recipe because its SO simple yet fun. If you have kids, this is a great way to include them on your creation! They will have a blast making them.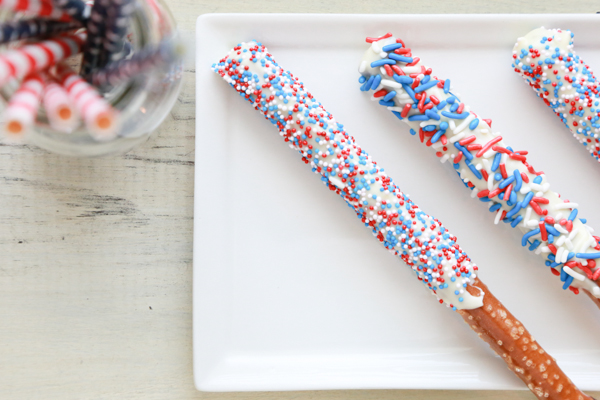 Get the recipe.
Red White and Blue Pretzel Bites by The Gunny Sack
Because one chocolate covered pretzel recipe was not enough (we just couldn't pick between the two). Again, the shape of the pretzel really does make a difference. Grab both bags and you'll have yourself 2 very popular desserts.
Get the recipe.
If you make one of these, make sure to tag the recipe creator and Want the Recipe for a chance to be featured on our Instagram and Facebook page!
We can't wait to see your creations!! If you don't want to post on your account, share it with us in our private Facebook group. We need all the inspo!