Eat Less Sh*t While Watching Football
The air is cooling, the leaves are falling, football apps are… everywhere and they're ruining my summer bod. If you have a love/ hate relationship with game day apps we feel you and let's change that. There are plenty of options for lightening up game day apps or choosing to whip up a healthier option. Here are some ideas:
1. Jalapeno Poppers from Kristin Cavallari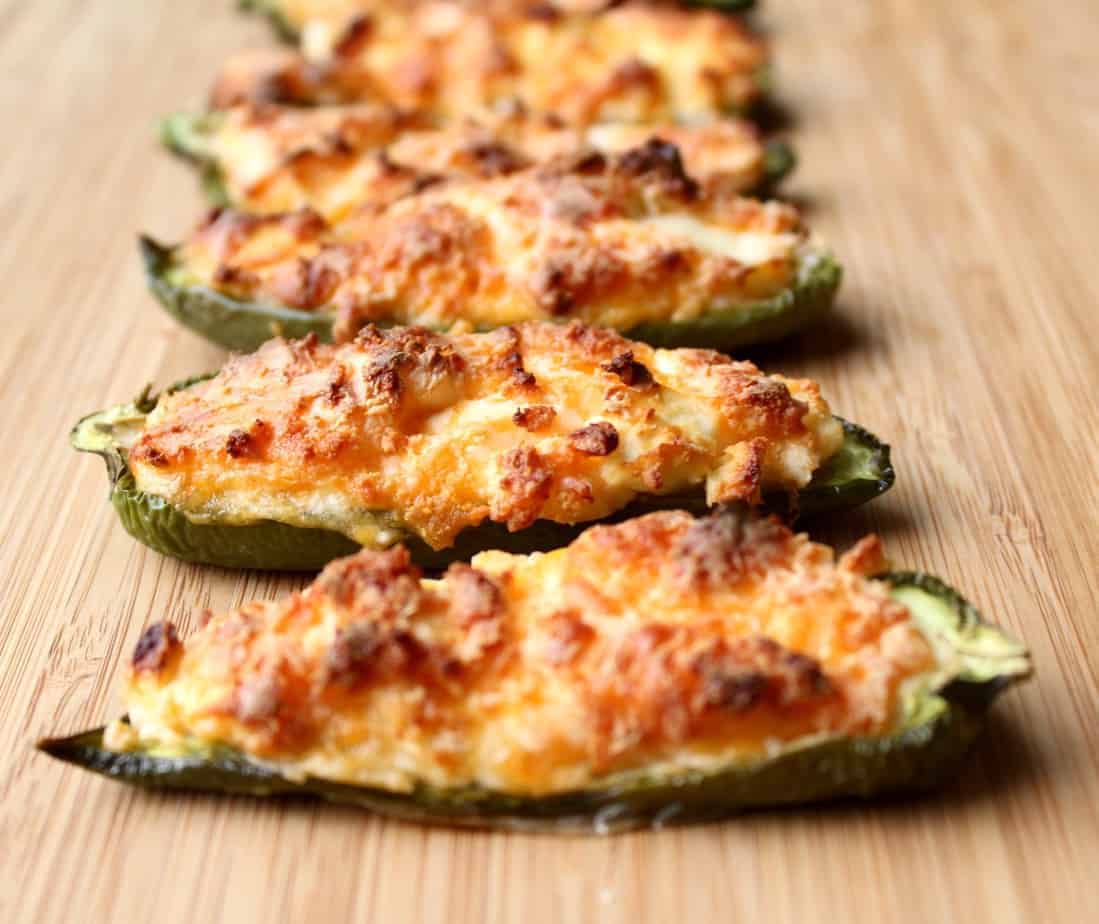 Photo: Off Beaten The Path
Kristin Cavallari is the queen of the healthy app. Her cookbook True Roots is a goldmine for lightened up recipes that are totally delish. These poppers are easy, healthy and scrumpy!
Want the recipe?
2. Big Mac Bites from Homemade Interest
Ditch the bun and instead spear these little big mac bites for a FAB bite of big mac heaven.
Want the recipe?
3. Ultimate Chili Stuffed Sweet Potato Skins from Ambitious Kitchen
Straight up meal in a sweet potato boat.  Better than a regular potato skin and then some.
Want the recipe?
4. Roasted Buffalo Cauliflower from A Cedar Spoon
I couldn't be more obsessed with buffalo wings and let me tell you, I think buffalo cauli bites are a fantastic substitute. They're also so much less intimidating to make at home!
Want the recipe?
5. Healthier Slow Cooker Green Chili Corn Dip from A Lively Table
You know you're in a good place when the instructions are to "stir all ingredients together" — and that's exactly what you'll do here. Throw some corn, herbs, veggies, and some cheese into the slow cooker and enjoy this delicious dip!
Want the recipe?
6. Loaded Buffalo Hummus from Life Love and Good Food
Did your roommate just tell you friends are coming over for the 1:00 games? Cool. Buy some buffalo hummus and load it up with a few toppings that will transform a simple hummus into a gorg dip.
Want the recipe?
7. Healthier Buffalo Chicken Dip from Erin Lives Whole
In case it's not clear, I'm obsessed with all things buffalo. I don't think I could live without Franks my husband, child, dog… I ALWAYS make buffalo chicken dip and it's savage but it's so good. This one is a liiitle easier to justify feeding the people I love.
Want the recipe?
8. Healthy Slow Cooker Turkey and White Bean Chili from Half Baked Harvest
Anything I can throw in my slow cooker is a win for football days. And turkey chili is a must as it gets colder! This lightened up recipe is perfect for a cozy football meal.
Want the recipe?
9. Everything Bagel Popcorn
I can't help myself.. this everything bagel popcorn is a must for most any occasion. Plus it takes 5 minutes to make and your guests will be addicted.
Want the recipe?
10. Spinach Artichoke Dip from Kristin Cavallari
We'll close with how we opened: an absolutely fabulous recipe from the health queen herself, Kristin Cavallari. You won't believe it, there's no cheese in this sucker. And it's drool worthy.
Want the recipe?