Spice Up Your Weekend with These Fall Cocktails
It's Fall aka Football season and we're craving all of the spiked ciders, sangrias ,and mules for the ultimate Sunday Funday. This time of year can get pretty overwhelming with all the apple, pumpkin, and cranberry recipes on the net but lucky for you, we're here to do ALL the research and pick only the best of the best for you.
We're sharing a few on the fancy side (think: sitting by the fire after a long day with no need in the world but a stiff glass of bourbon) and some on the party side (mimosas and margs, obviously).
Whatever your tastes are, these fall flavored cocktails will have you feeling all the #basic feels. Not to mention, they are super instagrammable too, so get your cameras ready and start tagging your girls @wanttherecipe!
Honey Roasted Pear Sparkling Cocktails by Cotter Crunch
When we think Fall we often think pumpkin and apple everything, but Pear is one you don't want to miss out on either! This cocktail has just the right amount of sweet and sparkle and will have your taste buds so happy. Easily make this recipe into a mocktail for an alcohol free treat!
Want the Recipe?
Pumpkin Spice Moscow Mule by Freut Cake
I may be biased, but mules are an absolute go-to for me no matter what time of year it is. Of course, it's pumpkin season, so why not turn this classic drink into a fall fav?
Want the Recipe?
Apple Sangria by Damn Delicious
Want the Recipe?
Vanilla Chai Old Fashioned by Half Baked Harvest
Need I say more? Nothing screams Fall like a vanilla chai latte or old fashioned.
Want the Recipe?
Pumpkin Pie Bourbon Cocktail by Love and Confections
This one is stiff and pumpkin spicy in all the right ways. Sip this by the fire or outside on a cooler night for major fall feels.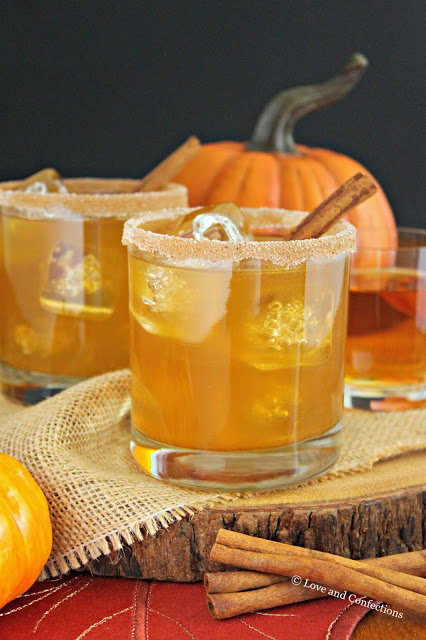 Want the Recipe?
Autumn Gin & Tonic by Imbibe Magazine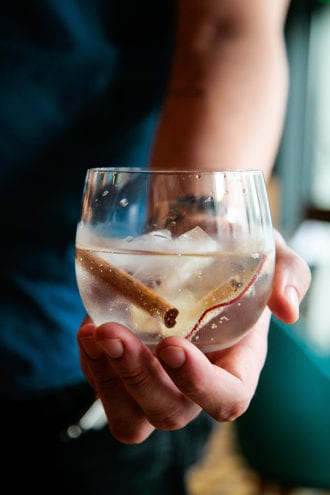 Want the Recipe?
Caramel Apple Martini by Inspired by Charm
Want the Recipe?
Pumpkin Spice White Russians by The Blond Cook
I love the versatility and creaminess of this recipe. You can use milk of your choice and make it as stiff as you'd like. This one's all about YOU with a dash of pumpkin spice.
Want the Recipe?