Honey
What is it?
Honey has been used for centuries in common Ayurveda medicine for treating sore throats, colds, and wound healing (although not studied heavily with concrete evidence). To give you some background, bees collect sugar (mainly the sugar-rich nectar of flowers ) and bring it back to their behive (1). Once inside the beehive, they repeatedly consume, digest and regurgitate the nectar, resulting in what we know as honey (2) (kind've an unpleasant way of explaining it, but that's the gist!)
What Types are There?
Like maple syrup, honey has different types and grades that you'll want to be mindful of when purchasing. You will first want to look at the Grade A,B, or C, and then the type of tree that it was extracted from to understand what kind of quality you are getting. Grade A is the best quality and reflects not only the texture but also the flavor of floral and sweetness.
Manuka honey contains Methylglyoxal (MGL), a compound that contains natural antibacterial properties and has been shown to be an effective treatment for a snotty nose (aka mucus)(3). Further, its soothing, anti-inflammatory properties provide almost instant relief for sore throats and coughs and can actually have an impact on fighting off the bacteria. It's funny how generations of recommendations come full circle. Grandma was right about eating a spoonful of honey any time you were sick!
What are the benefits?
As said above, the type of honey you consume will have an impact on the benefits that you receive, but the biggest overall benefit of honey is it's anti-inflammatory properties. As we've talked about before (here), inflammation is the leading cause of all disease. Antioxidants found in honey have been linked to things like the reduction of heart disease, blood pressure, and strokes. (4)
It's soothing texture and anti-bacterial properties also make it a fantastic go to for healing burns and wounds. A review of 26 studies on honey and wound care found honey most effective at healing partial-thickness burns and wounds that have become infected after surgery (5) It can even be helpful for skin conditions such as psoriasis.
One of our favorite foodies, Rachael @ RachaelGoodEats, summed up the major benefits of manuka honey, as evidence shows this may be the most beneficial honey of them all:
– Manuka stops the growth of sore throat-causing Strep bacteria (6)
– Manuka honey contains more vitamins, minerals, amino acid and antioxidants than other types of honey
– Manuka honey contains antiviral properties which make it effective in treating cold and flu symptoms
– Reduces acid reflux, helps with stomach bacterial imbalances, soothes gastrointestinal problems
– Lessening severity of upper respiratory illnesses
Our favorite brand is Wetherspoon. It's a little pricey but trust us, a little goes a long way (the quality is also extremely high)! Thrive Market also sells it for a reasonable price. Click here for 15% off your first order!!
The Bottom Line?
Honey is a great sugar replacement and a fantastic addition to your daily ritual whenever you feel a cold/ flu-like symptoms coming on. We wouldn't recommend consuming too much of it because it is still high in sugar and overall calories and will raise your blood sugar levels pretty drastically. As with anything, consume in moderation and grab the highest quality when possible!
Want the Recipe?
Honey Chipotle Salmon with Roasted Bok Choy by Rachael Good Eats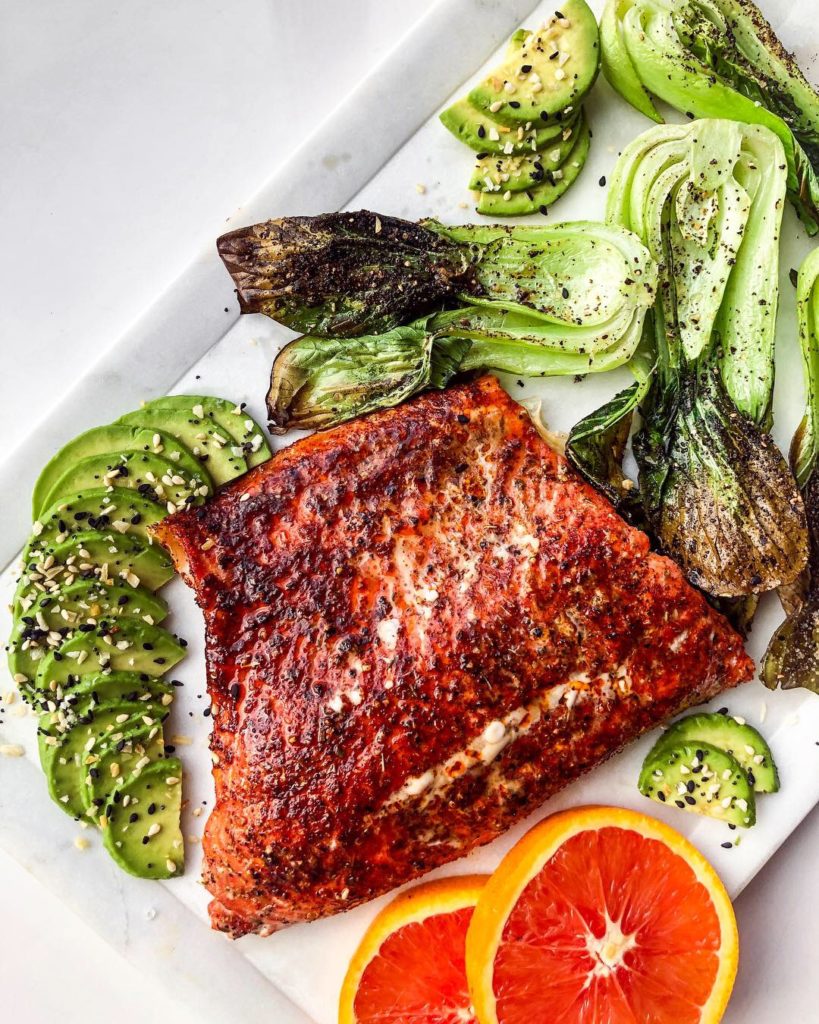 Honey Cupcakes with Honey Cream Cheese Frosting
One Pan Honey Mustard Chicken by Carlsbad Cravings
Morning Glory Muffins and Honey Butter