The end of summer is upon us and it's officially back to school time! Although you may have access to the grill all year long, this weekend is one of the last ones where we get to eat all of the barbecue food on the East Coast. We've been crushing the #girlswhogrill game this summer and this weekend will be no exception. (PS, you can check out some of our favorite 2K19 summer barbecue recipes here, here, and here)!
Of course, there is much more to celebrate on labor day than food, but we wanted to support you in your search for a good LDW recipe by rounding up 9 of the most delicious recipes out there. Best part is, they require almost no labor at all. One of us is moving this weekend and the other is a crazy busy new mom, so time is not something that we currently have here at WTR! For all of you busy bosses out there, this one's for you.
We'd love to see you whip these up this weekend so make sure to snap a pic and tag, send, or share on Instagram, Facebook, or Pinterest!
Seriously Refreshing Watermelon, Mint, Feta Salad by Fearless Fresh
If you can't tell, we're obsessed with watermelon as of late and making any recipe possible before it's out of season! This easy salad is so refreshing and the perfect side for a holiday weekend.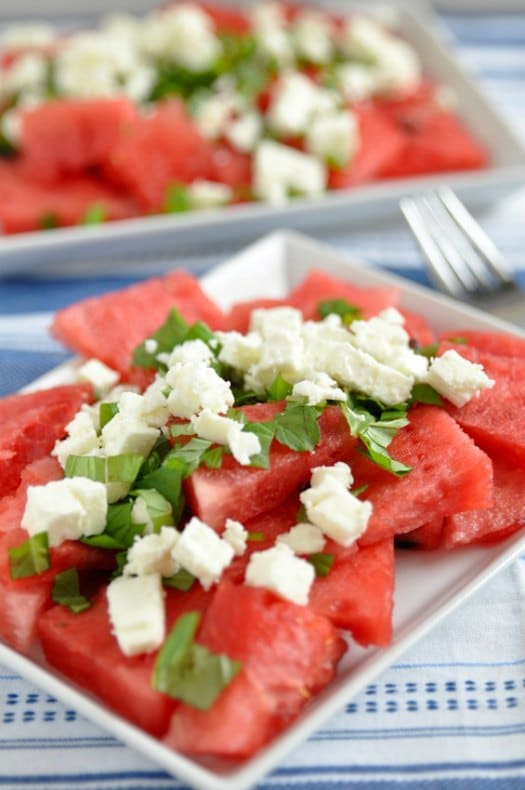 Want the recipe?
Pasta and Bean Picnic Salad by Simply Recipes
You know we love our pasta salads so OF COURSE it is on the menu for labor day weekend! We love this unique twist on pasta salad and know that you will to.
Want the recipe?
Grilled Vegetable Platter by Damn Delicious
What easier recipe to make than grilled vegetables? All you have to do is throw some oil and seasoning on and you are ready to go. Get the grill firing and you have yourself a delicious, colorful, and amazing side for any meal that you're planning.
Want the Recipe?
The Best Creamy Coleslaw by Foodie Crush
You'd be lying to yourself if you didn't think that every barbecue requires a good creamy coleslaw. Instead of wasting your time and calories on the store bought kind, we HIGHLY recommend you make this recipe by Foodie Crush. It's full of clean ingredients and oh-so tasty.
Want the recipe?
Banh Mi Hot Dogs by Damn Delicious
These hot dogs have a banh mi twist, loaded with pickled carrots, jalapeños, cucumbers, cilantro, crushed peanuts and Sriracha! How good does that combo sound? Mix up the classic labor day hot dog with this and your family and friends will be OBSESSED!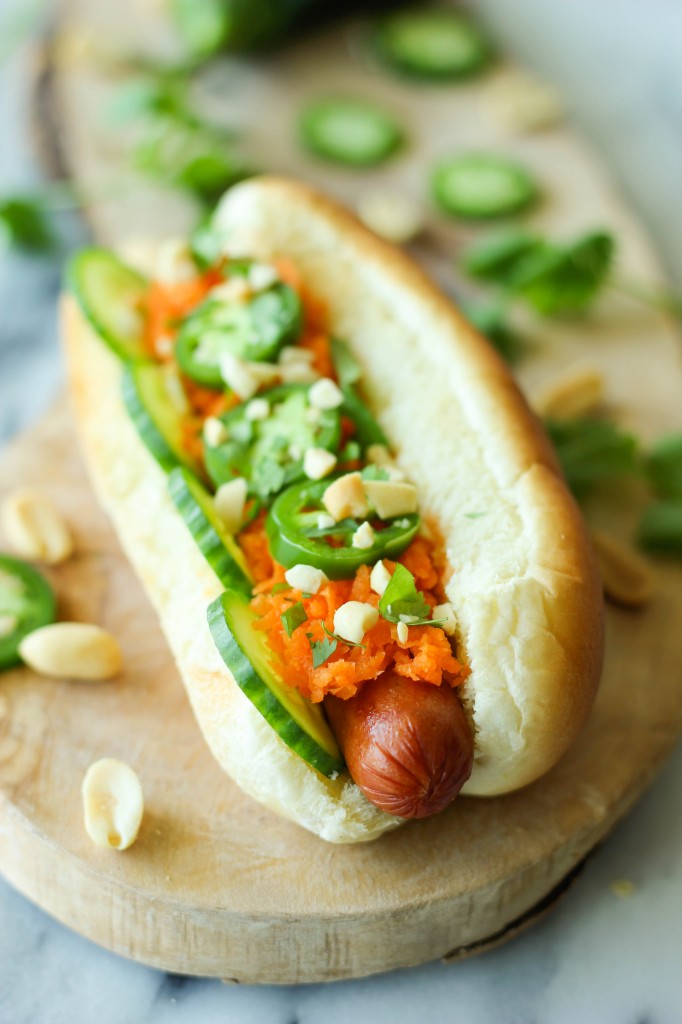 Want the Recipe?
Easy All American Potato Salad by Jessica Gavin
What better way to celebrate this holiday than with an All-American recipe? Potato salad is an essential item that always makes it on the table when serving bbq food. Jessica can confirm, this All-American potato salad is the ultimate recipe that will have everyone coming back for another serving! She also gives a pretty good tip as to how to cook the potatoes beforehand!
Want the recipe?
Paleo American Flag Pie (Grain Free, Gluten Free, Refined Sugar Free, Dairy Free) by 40 aprons
This baby is full of fresh strawberries and blueberries with a crunchy crust and is the perfect addition to an American holiday weekend. This will be the perfect touch to any family and friend barbecue. Also a great thing to bring if you are not planning to host this weekend!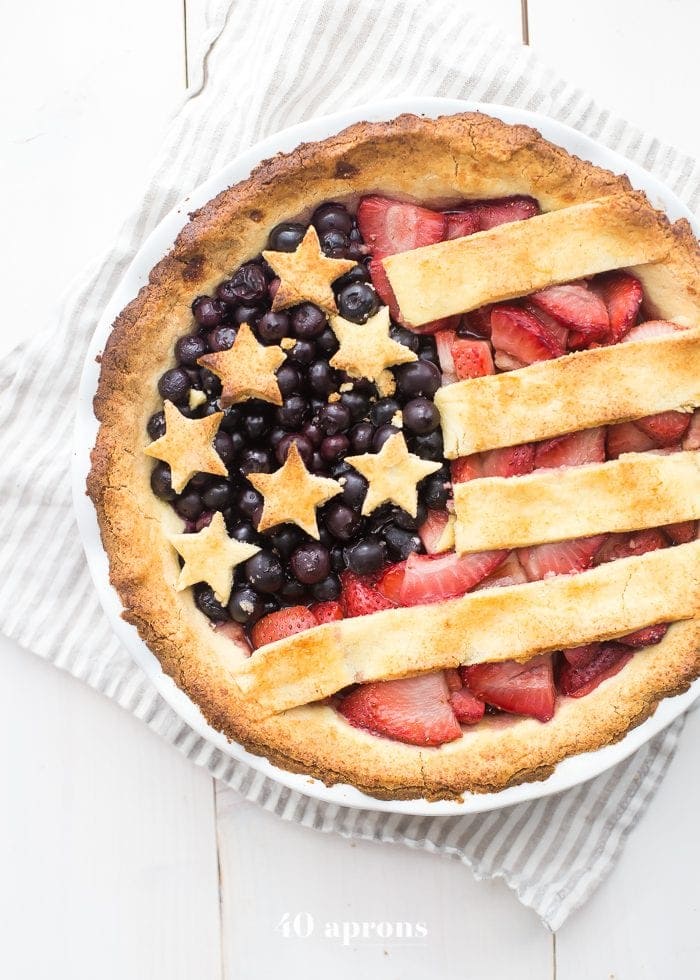 Want the recipe?
Simple Cucumber Salad with Lime Vinaigrette by Live Simply
This one is super light, refreshing, and crunchy. It tastes and looks like summer and will give you all the feels for the last few weeks of it!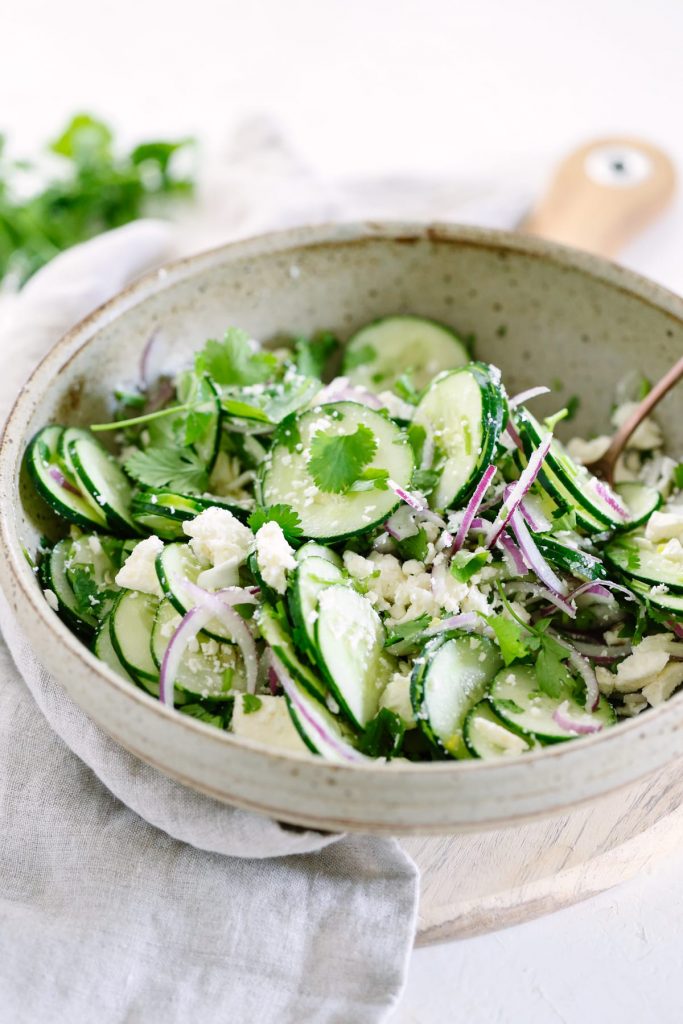 Want the recipe?
Summer Fruit Salsa by Homemade Interest
Tip: buy some extra berries when you're grabbing the ingredients for the pie and make a tasty fruit salsa. The cinnamon sugar chips dipped in a mound of fresh and sugary fruit is heaven in your mouth, trust me. This is the perfect treat for a larger group and something you can just put out on the table for people to dive right into!
Want the recipe?