Ingredient of the Week: Peaches
It's peach season and we are SO into it. Peach cobbler, salad, sangria; you name it, we're eating it.
What are the benefits?
SKIN! It's likely that you're giving your skin some extra TLC during these hot summer months with loads of sunscreen and moisturizer. What if we told you incorporating more peaches in your life could also help prevent damage and promote healthy skin? Certain compounds in peaches can actually help your skin retain moisture and fight off tumor causing bacteria. According to this article, test-tube studies indicate that compounds found in peaches may improve your skin's ability to retain moisture which improves your skin's texture.
Not only that, but both test-tube and animal studies show that extracts made from peach flowers or flesh applied directly to the skin may help prevent UV damage (1, 2 3). Start saving those extra peach skins as opposed to throwing them away!
Peaches have also been shown to potentially aid in immune function. Peaches are rich in immune-boosting nutrients (Vitamin C) and antioxidants and studies report that they may also fight certain types of bacteria (4). Vitamin C is not all that it can provide, either. Peaches are very rich in Vitamin A which is essential for not only immune function but also your skin, eyes, and the production of a strong gut lining (cue the buzzy word "gut health").
Although you may think bananas are the best way to get in potassium for muscle health, you are wrong! Peaches also come in hot as a great option for getting your potassium in. Potassium is an important mineral that helps lower blood pressure, regulate blood sugar, and balance fluids in the body.
Notes to Know
Although peaches are extremely beneficial for the reasons noted above, more is not better. Peaches are naturally high in sugar and although its a fruit source, too much sugar is never a good thing. (5)
Peaches can also be a bit hard on the digestive system unless you are someone with a strong system/ no tendency to bloat or experience stomach aches. If consuming peaches bothers you, we definitely recommend talking to a functional or conventional doctor or restrict it from your diet to see if there is relief.
How to Buy
We can't recommend this enough: buy ORGANIC! Peaches are on the EWG's list of the dirty dozen, indicating that peaches are highly exposed to processed chemicals and pesticides that are absorbed into the fruit. Unfortunately enough, those pesticides carry with the fruit into your body once you take a juicy bite. Buying organic is the safest way to avoid exposure, so do you're homework and splurge a little bit on this fruit when purchasing.
Want the Recipe(s)?
Of course you do! That's why you're here!
Peach Upside Down Mini Cakes by Sweet & Savory by Shinee
Want the recipe.
Easy Peach Cobbler by Tidy Mom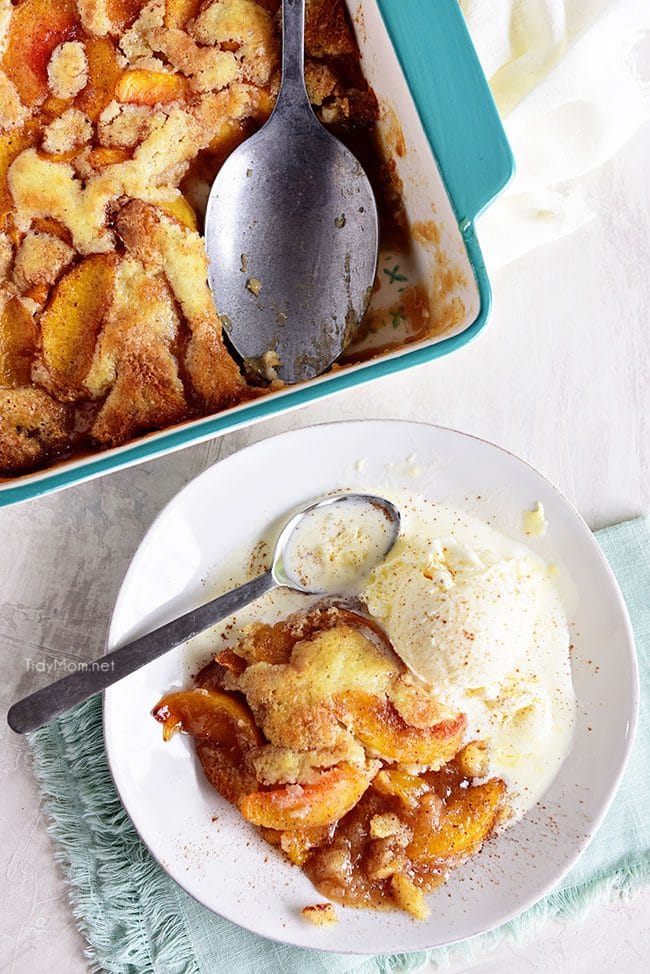 Want the recipe.
PEACH STRAWBERRY LEMONADE RECIPE (WITH LESS ADDED SUGAR) by The Forked Spoon
Want the recipe.
Grilled Peaches with Prosciutto and Feta by Eat Well
Want the recipe.
Peach Smoothie by Dinner at the Zoo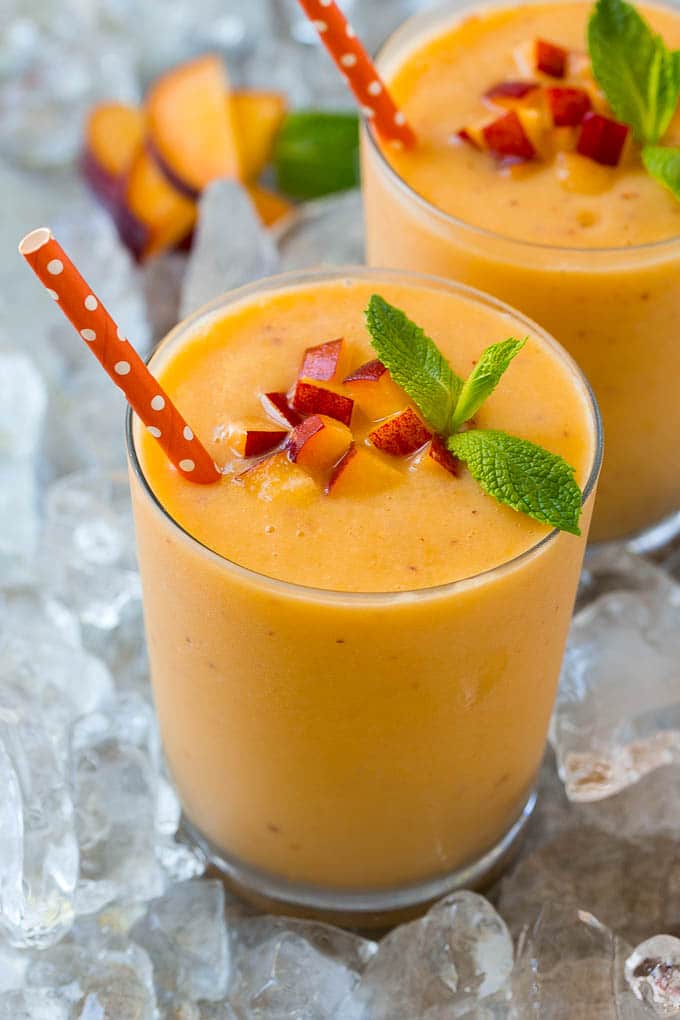 Want the recipe.