Cookie eating szn doesn't have to ALWAYS mean a bigger waist line. For those of you who are attempting to keep this holiday season a little bit on the lighter side, we're rounding up 10 of our favorite healthier cookie recipes to bake, eat, and share!
If you're like me, you're always trying to get your friends and family on the 'health' train. Let me tell you, they won't even know that these recipes have a little health spin on them. We NEVER sacrifice taste here at WTR and cookies are no exception to that rule. Nobody wants a grain free piece of cardboard, we get it. Everyone will love each and every one that we're rounding up today, we can promise you that! I can guarantee you won't stop at just one batch. Enjoy!
1. Almond Butter Blossoms by Paleo Running Momma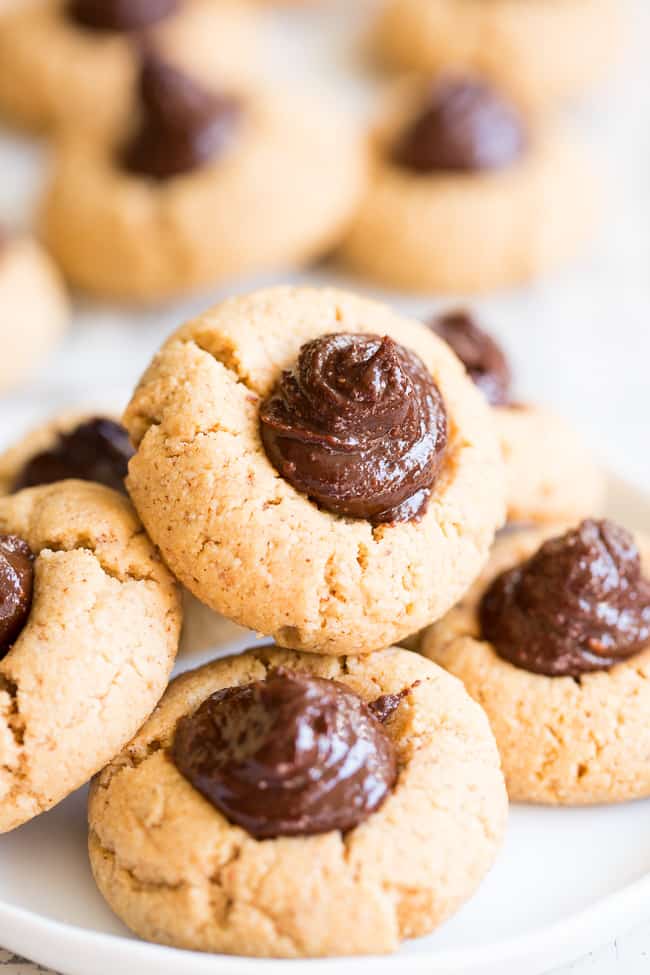 This is a personal and LaClair family favorite. The best part – it's one of the simplest recipes to make! Show your strong baking game by whipping up a batch of these.
Want the recipe?
2. Almond Flour Sugar Cookies by Nourished by Nutrition
Besides blossoms, this is a MUST HAVE every holiday season. Although it's not the traditional kind, they're still insanely delicious and slightly more nutritious than your classic sugar cookie.
Want the recipe?
3. Healthy Soft Raspberry Thumbprint Cookies by Fit Foodie Finds
I'm HERE for these. I love a good thumbprint cookie and these guilt free ones just make them that more appealing!
Want the recipe?
4. Grain free peanut butter cup lovers dream cookie by The Nutritious Kitchen
You guys, these are literally the easiest (and tastiest) cookie recipe. You'll be amazed at how little ingredients there are!
Want the recipe?
5. Healthy Chocolate Chip Banana Bread Zucchini Oatmeal Cookies (vegan!)  by Ambitious Kitchen
Turn your favorite bread recipe into a bite-size cookie!
Want the recipe?
6. S'mores Cookies (Dairy free, gluten free, grain free) by Ames
Sign me UP. How are these healthy, you ask? Yeah, we're not sure either, but they are damn good.
Want the recipe?
7. SOFT GINGERBREAD COOKIES (GLUTEN FREE, PALEO + VEGAN) by Bakerita
Nothing screams Holiday quite like gingerbread cookies, am I right? I am drooling just looking at this photo!
Want the recipe?
8. Dark Chocolate Cranberry Oatmeal Cookies from Amy's Healthy Baking
Jam packed with oats, cranberries and dark chocolate chunks, you'll absolutely love these cleaned up, subtly festive cookies. One could argue that these could also pinch hit for breakfast if you're feeling a bit indulgent…
Want the recipe?
9. PALEO HEALTHY GINGERBREAD COOKIES (GLUTEN FREE) by Food Faith Fitness
I mean, how cute are these little guys? These are the perfect festive treat to make, eat, and share!
Want the recipe?
10. Paleo Hot Cocoa Cookies w/ Vanilla Bean Frosting by Fit Foodie Finds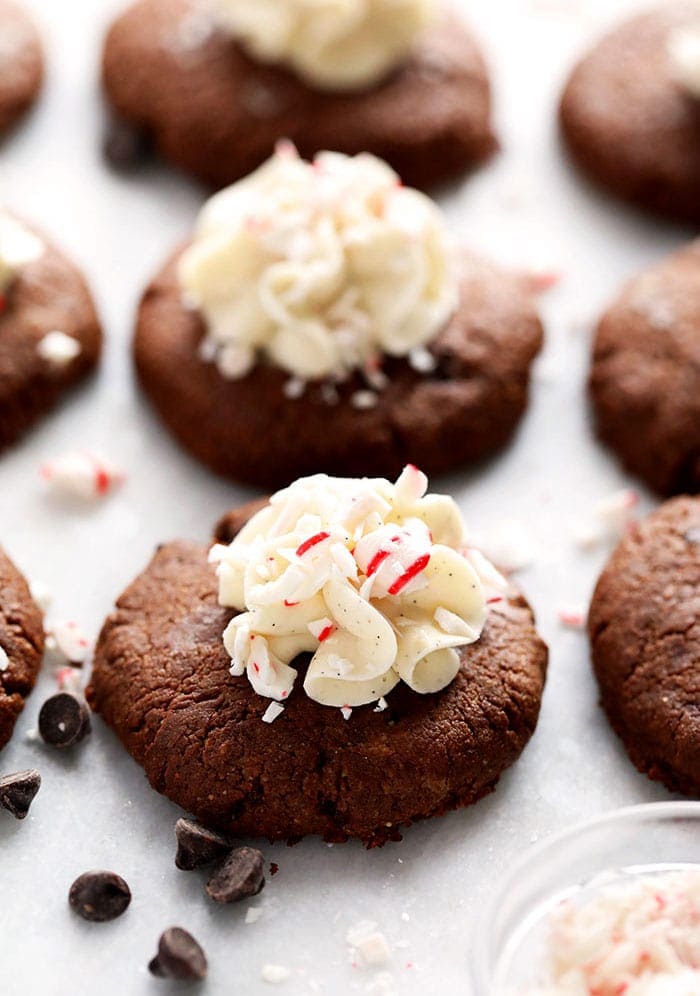 Who wouldn't want an edible version of their favorite holiday drink? Not to mention the presentation is absolutely beautiful!
Want the recipe?