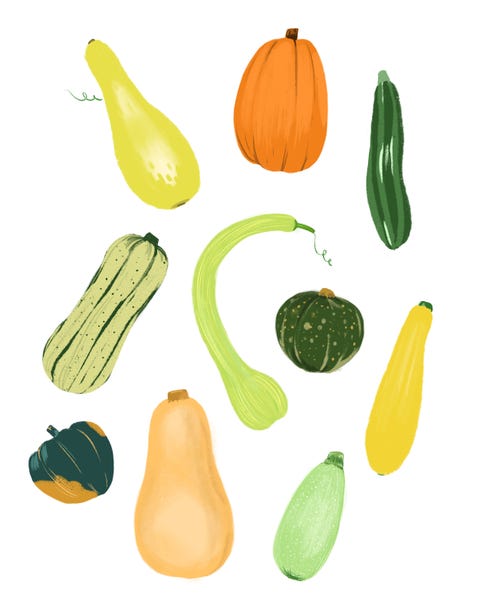 Source: Country Living
Now that we're in the transition phase from Summer to Fall, it's time to start thinking about the seasonal produce to add and remove from our grocery list. Squash is one of those foods that we often get confused about which one one to buy during which season. Lucky for you, we're here to break down all the different varieties of squash as well as the health benefits. We'll even tell you the best time to consume! Think of it as your one-stop shop for all things squash! Let's dive right in.
So, what is it and what are the different types?
Believe it or not, squash is technically classified as a fruit. It is natural for one to think of it as a vegetable because of it's similar characteristics but all squashes have seeds, thus classifying it as a fruit. As far as types go, there are more than you've likely ever seen. In North America, most of the varieties are simplified into either summer or winter squashes. These classifications depend on when the squashes ripen, and what flavor and health benefits the users are trying to gain. Squash also often includes gourds, of which there are many classifications as well. (1)
Summer squash
Zucchini Squash
Rounded Zucchini
Crookneck Squash
Scallop Squash
Cousa Squash
Tatume Squash
Tromboncino Squash
Winter Squash
Acorn Squash
Buttercup Squash
Butternut Squash
Delicata Squash
Dumpling Squash
Hubbard Squash
Kamboca Squash
Pumpkin Squash
Overwhelmed? Don't be! We're here to share a recipe or two that will help you get more familiar with each kind. Trying new vegetables is a luxury, not a scare! Squash are good for more than just the thickest part of them. The seeds of squash are also edible and can be made into a number a tasty treat or an at home oil (2) The shoots and tendrils of squashes can also be eaten as greens in a salad.
First, tell me the health benefits.
Like some of our other favorite ingredients here and here, all varieties of squash contain vitamin A, vitamin C, vitamin E, and B-vitamins. Squash also contains some pretty key minerals like magnesium, potassium, manganese, copper, phosphorus, calcium, and iron. It is also a very good source of carotenoids and other important anti-inflammatory and antioxidant compounds. (1)
According to the American Institute for Cancer Research, intake of winter squash helps lower cancer risk. (3) Hint hint: this means you should start loading up on pumpkin spice EVERYTHING!
Squash also has a relatively low glycemic index. In layman's terms, that means that it does not heavily increase blood glucose levels which, over time, can lead to things like diabetes and obesity. When your blood sugars high, your body isn't in fat burning mode. The goal is to keep a steady blood sugar curve throughout the entire day and squash can help you do just that.
Squash has TOO many benefits to fit into a little blog post, but here are a few more notable ones that we though you might be into:
Regulates blood circulation (and helps with iron deficiency)!
Improves vision: A single serving of squash can contain more than 400% of your daily requirement for vitamin A, due to the massive amount of beta-carotene found in it. (4)
Improves immune function: as the seasons change it's important to focus on all things immunity!
How Do I Buy It?
Summer squash are harvested in spring while winter squash are harvested in the Fall. As we approach mid-late September, you'll want to start stocking up on spaghetti, butternut, delicata, and all the others mentioned above!
Tips when choosing the one you're going to take home:
Look for any signs of cracks or soft spots. This may indicate that the squash was harvested too early.
Avoid shiny. This generally means the squash was picked too early.
Look at the color. You want your squash to be rich with a deep tone. No one likes anything dull, am I right?
Want the Recipe?
Buffalo Chicken Stuffed Spaghetti Squash by The Real Food RDs
Want the Recipe?
Easy Shrimp Zucchini Squash Skillet by Kim's Cravings
Want the Recipe?
Crispy Parmesan Garlic Squash Chips by 4 Sons R Us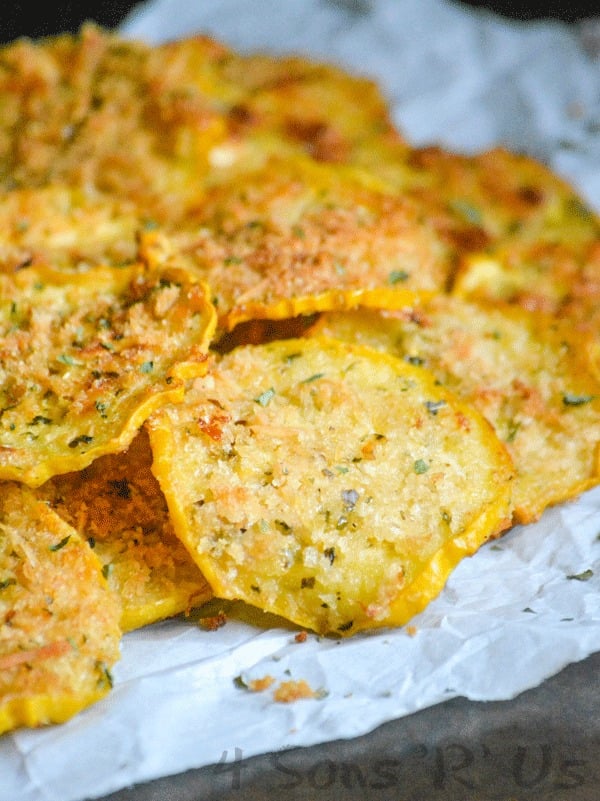 Want the Recipe?
HEALTHY ZUCCHINI & SQUASH CASSEROLE RECIPE by the Evolving Table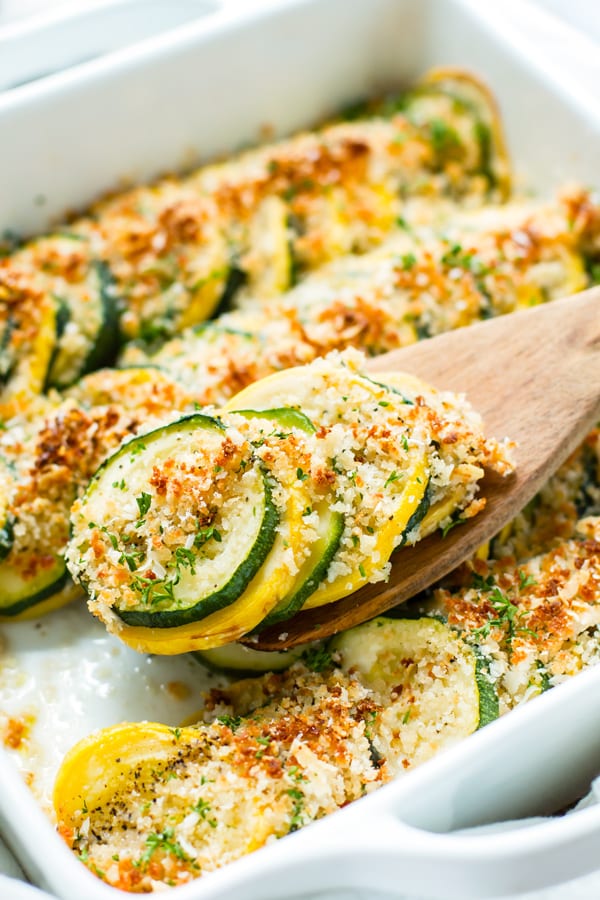 Want the Recipe?
GARLIC BUTTER BUTTERNUT SQUASH STEAKS by Eat Well 101
Want the Recipe?
Roasted Butternut Squash Soup by Peas and Crayons
Want the Recipe?
ROASTED DELICATA SQUASH PASTA WITH GREENS by Family Style Food
Want the Recipe?
Here's a great tip sheet by Real Food with Jessica on how to cook delicata squash!
TURKEY MUSHROOM APPLE STUFFED ACORN SQUASH by The Clean Eating Couple
Want the Recipe?