This article was contributed by: Ashley from Bake It Balanced! Read more about her here.
What comes to mind when you think of popcorn? Is it going to the movies? Maybe those late nights when you're just craving something quick? To me, it's the perfect snack. It's so easy to make, and so versatile. You've got salty, you've got sweet–throw in some M&Ms and I'm basically in heaven. At our house, it's safe to say popcorn is its own food category. You can usually catch me with a handful most nights of the week (I like to think adding a glass of wine helps me channel my inner Olivia Pope).
If you're like me, and you catch yourself thinking about popping some deliciousness this fall, try these simple ways to up your game. These 10 easy popcorn recipes will transform regular ol' popcorn into something amazing. And bonus–when you're hosting friends and need a fun appetizer, you'll have it handled–that is, unless you eat it all before they get there!
Cookies and Cream Popcorn by Handle the Heat
Adding Oreo's to any dessert automatically takes the deliciousness level up about 10 notches, and this treat is no exception! I love the crunch from the Oreo's paired with the creaminess of the white chocolate!
Want the recipe?
Salted Caramel Popcorn by Broma Bakery
Sweet and salty collide in this popcorn combination that is straight from my popcorn dreams! Sarah even walks you through the steps of making your own homemade salted caramel. Yum!
Want the recipe?
Matcha Stovetop Popcorn from Oh How Civilized
Matcha? On Popcorn? I know I hadn't thought about it either, but I am SO glad that I know now. Jee take her recipe up a notch further by using clarified butter. If you are a matcha fan, make sure you try this recipe out stat!
Want the recipe?
Tabasco Honey Butter Popcorn by The Speckled Plate
Hang on tight because this popcorn has it all. If you are looking for something a little sweet with a hint of heat then this is the recipe for you!
Want the recipe?
Cheesy Vegan Popcorn by The Healthful Ideas
The secret to this delicious vegan popcorn is the nutritional yeast that's added to the top! This gives it that savory and cheesy taste that will blow you away.
Want the recipe?
Cinnamon Toast Crunch Popcorn by Bake It Balanced
Alright not to toot my own horn here but when you combine the amazingness of Cinnamon Toast Crunch with the saltiness of buttered popcorn you know you are going to have a good time!
Want the recipe?
BBQ Ranch Popcorn by Spicy Southern Kitchen
You had me a "ranch".  The combination of BBQ + Ranch + Popcorn in this recipe is so good it might just become one of my weekly late-night snacks!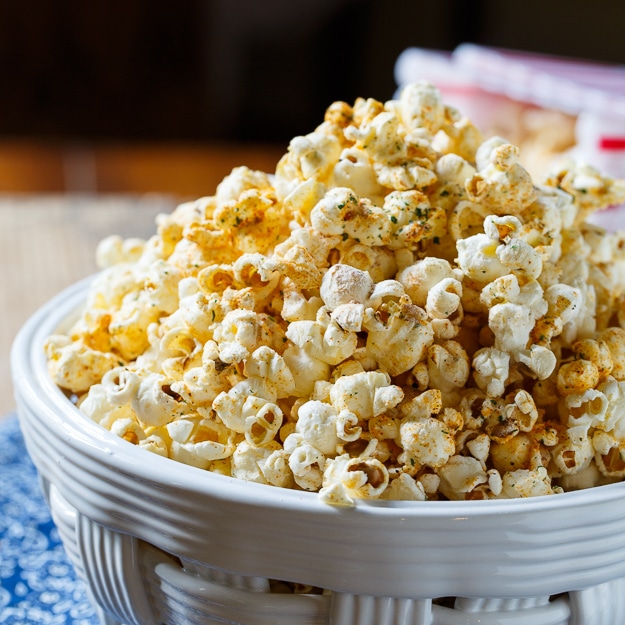 Want the recipe?
Hot Cocoa Popcorn by Shutterbean
Fall is nearly here and that means cozy nights snuggled under a pile of blankets. I don't know about you, but Hot Chocolate always seems to be part of that Fall equation, and now not only can you sip your hot chocolate, but you can eat it too!
Want the recipe?
Kettle Corn by Foodess
Kettle Corn is so good and one of my favorite Fall comfort foods. I always end up getting a giant bag while at the fair and now I can have that same delicious experience whenever I want thanks to Jennifer at Foodess!
Want the recipe?
Miso Black Sesame Caramel Corn by Smitten Kitchen
Last but certainly not least on the list is this mind-blowing creation from Deb at Smitten Kitchen. Full of flavor with hints of sweet, salty and a unique kick that will keep you grabbing handfuls until you suddenly realize the bowl is empty.
Want the recipe?